Website surveys explained - from start to finish
How to effectively use one of our products - Website Feedback
This article will guide you through effectively creating website surveys, sometimes referred to as widgets or intercepts. See what you need to do to ensure you survey the right people at the right moment. Make sure that questions you ask are spot-on. Trigger surveys based on specific events such as exit intent or cart abandonment.
Let us walk you through setting up effective website feedback campaigns all the way from installing our tracking code, through creating a survey and targeting your respondents, to gathering invaluable feedback from visitors.
What's in it for me? - the benefits of collecting website feedback
Getting a survey to appear on your website
Creating a survey in the Survicate panel
Targeting survey respondents & segmenting
Launching a survey
Available integrations
What's in it for me?
Why would you want to run website surveys? There's a quick and easy answer to that question. Target Website Surveys afford you the rare chance to capture feedback from visitors in real time. Rather than asking someone why they left your website after the fact, catch them in the act.
Suppose someone has stopped making a purchase half-way through the process. Have they abandoned their cart for good, or just need a little encouragement? Widget surveys will let you find out just that.
You can display website surveys at any point of visitor journey, anywhere on your website. Fire off a survey when a visitor has clicked on a certain button - or has failed to it, for that matter. Launch a form when a customer uses a discount count. Hide a survey behind a clickable button situated conveniently in the panel of your application to inquire about UX effectively. These, and many similar use cases, are readily supported by Survicate website surveys.
It is not an overstatement to say that with Survicate, you can trigger a survey based on virtually ANY event. Just have your developers read through our JavaScript API Documentation as well as this quick guide.
I'm sure you're dying to find out how to get widget surveys set up by now. Let's get down to business without much further ado, then.
Getting a survey to appear on your website
You can benefit from using Survicate website surveys in a multitude of ways. The greatest advantage that springs to mind is that they require little to no developers time. Why make you already busy developers even busier? Once you take a few simple steps, you will be able to create and manage surveys directly from the Survicate panel. Surveys made easy!
1. For this to happen, you need to install Survicate tracking code on your website. Simply said, it's a snippet of JavaScript code that'll enable us to display surveys on your website as well as keep track of any responses you might receive. You can get your developers to do it. Here's how:
Log in to your Survicate account by following this link. Once on the main dashboard, click on the Sprocket Wheel in the upper right-hand corner. Then click on Tracking Code.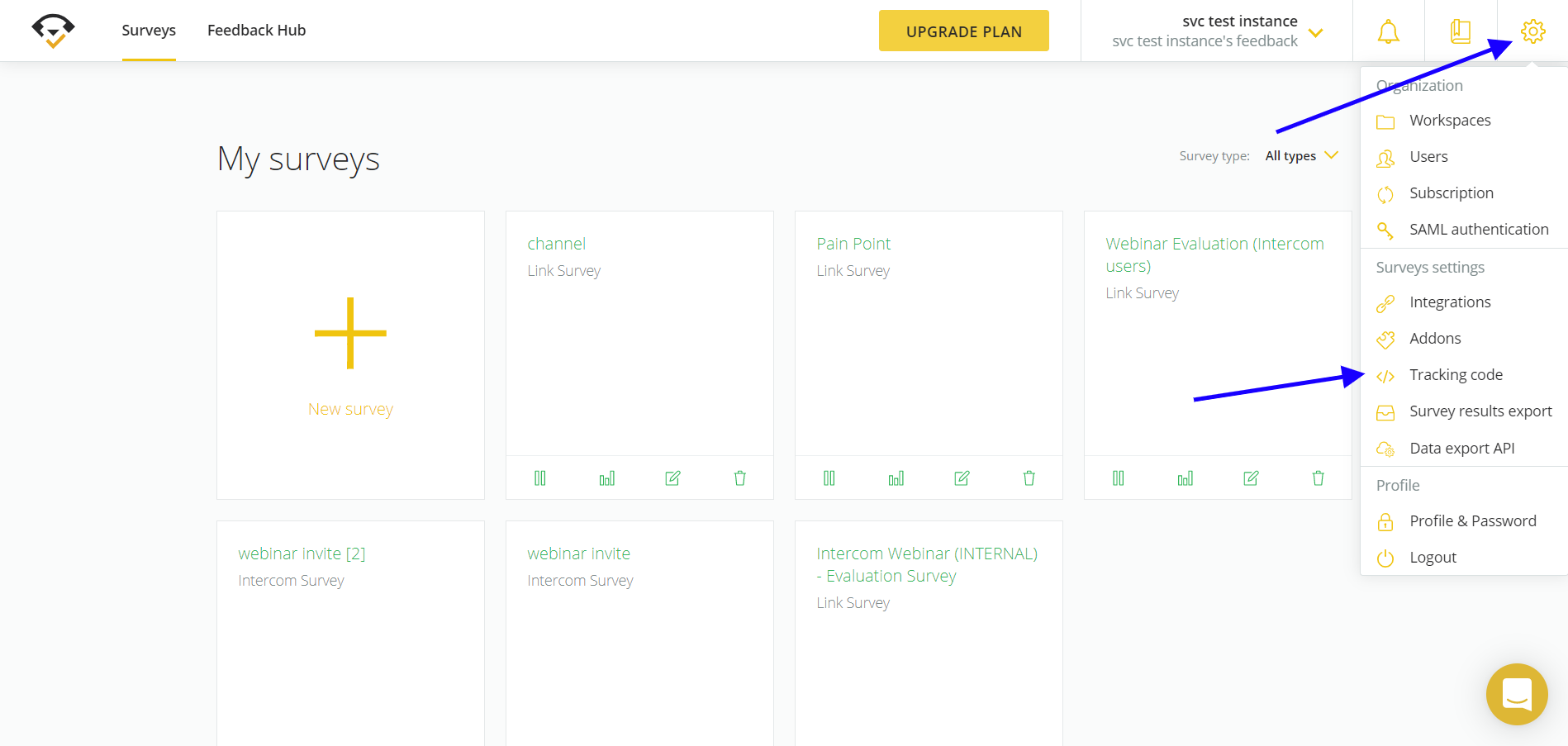 2. At this point, there a couple of options to choose from. You can get your developers to install the tracking code to save time:

Alternatively, try installing Survicate tracking code yourself. You can either do so manually, or try the automated installation if you're using Google Tag Manager or Wordpress.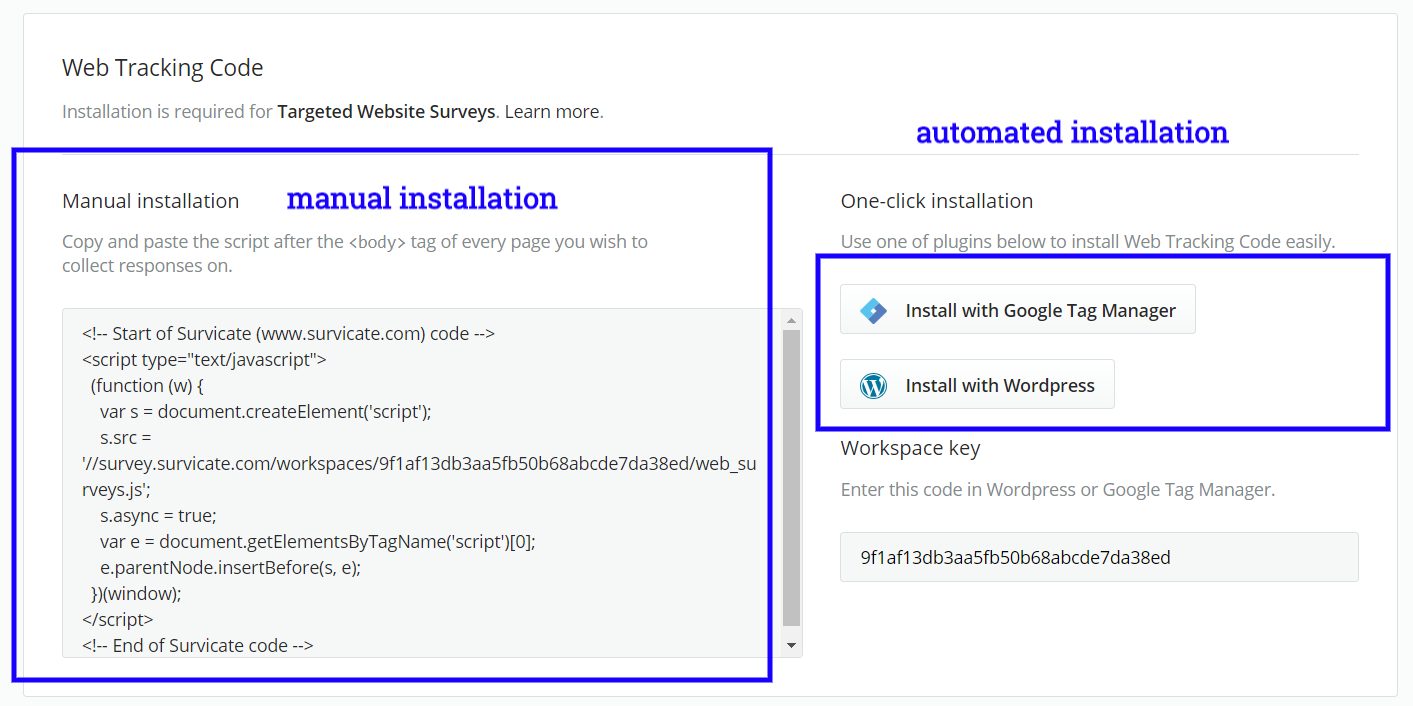 The third option is an extra tracking code. You can disregard it if you're not interested in the finer features. It allows you to track your visitors' identity or display a survey to only those of your users who are logged in. Please refer to these articles for more information: respondent custom attributes & targeting logged-in visitors

3. Here's how to quickly check if the tracking code has been installed correctly. Enter the URL your surveys will be displayed on. Then do the following: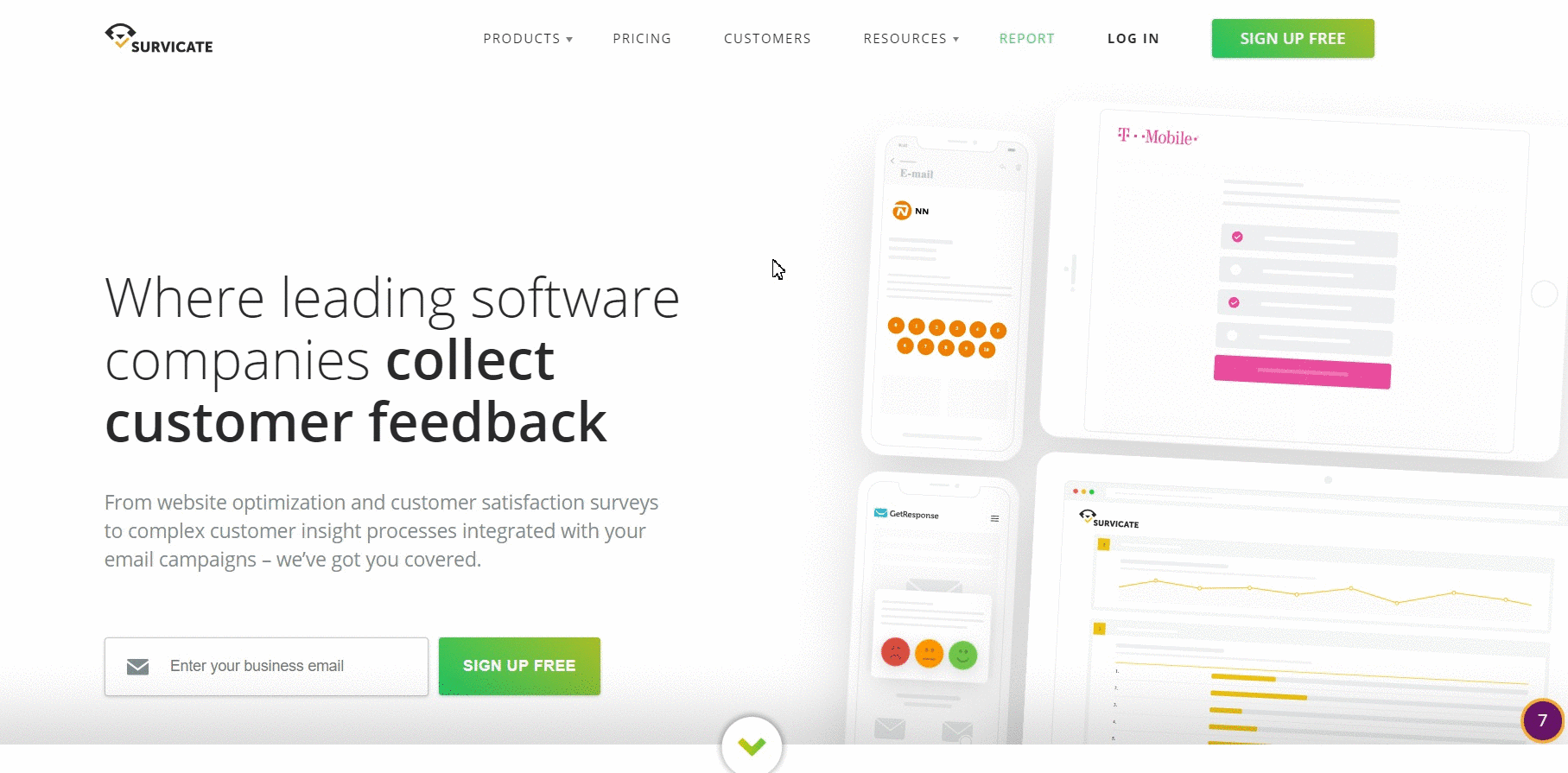 If the command _svc you've typed in yields a workspace ID, then you're good to go!
Creating a survey in the Survicate panel
Now that you've ensured widget surveys would be displayed correctly on your website, let's create a sample website form. Here's how to do it:
1. Log in to your Survicate account by following this link. Once on the main dashboard, click on Add New Survey +.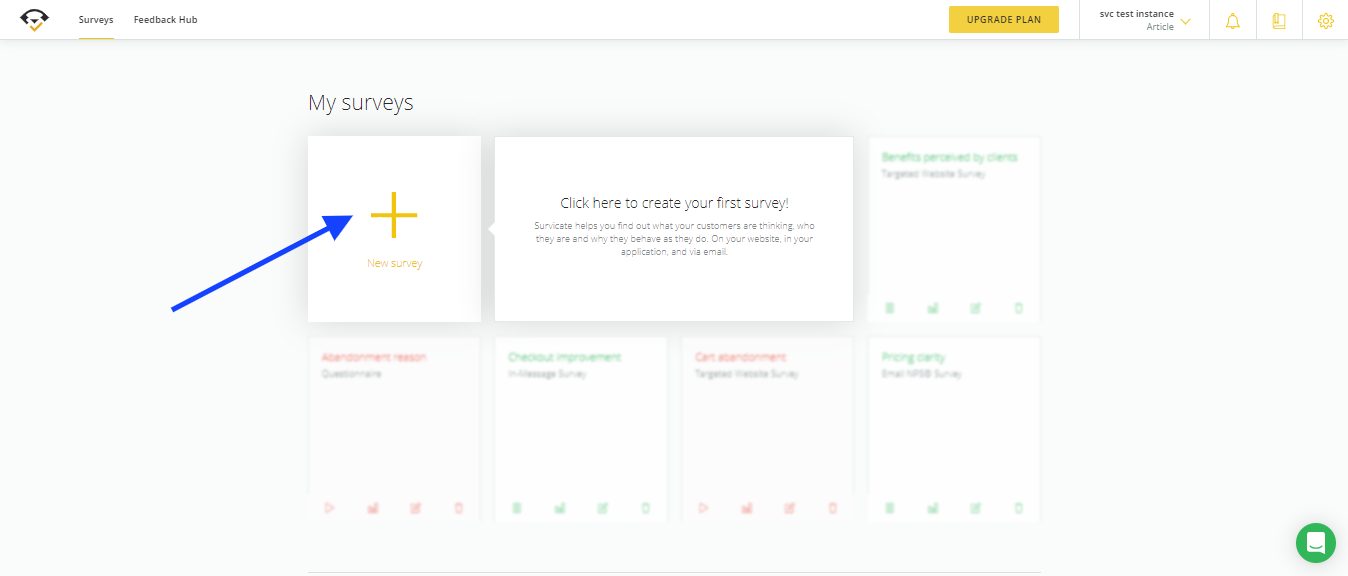 2. Now you get to decide whether you'd like to create a survey of your own (1), or choose from some preexisting surveys (2). You can consider picking the (2) option if you're on the lookout for survey inspiration. Survicate provides a wealth of survey templates to choose from.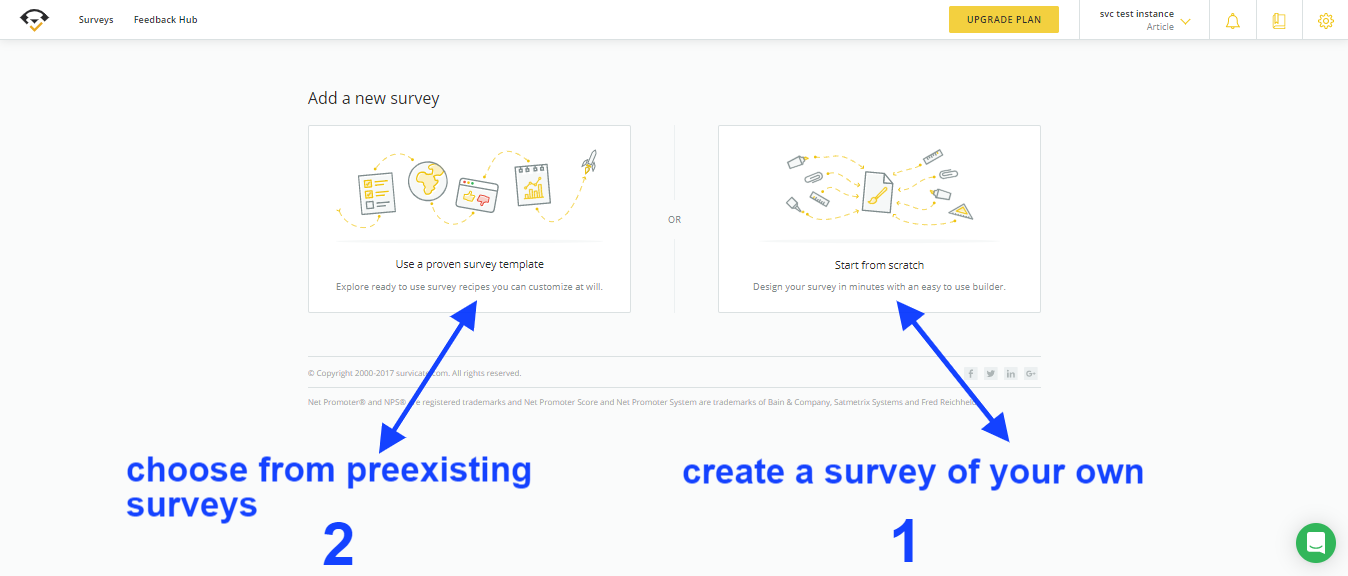 3. If you go ahead with the (2) option, be sure to change the type of survey to Website widget. Then pick a survey that's of interest to you.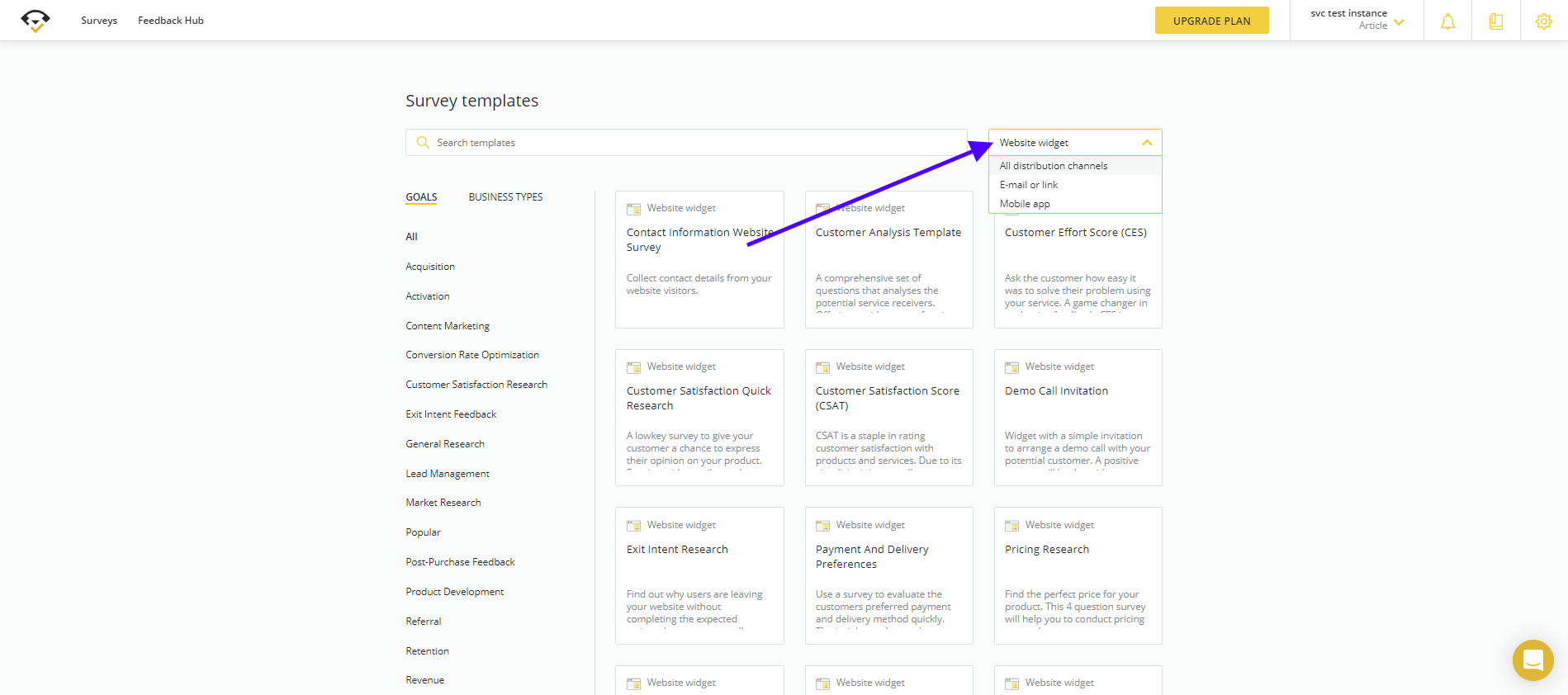 4.If you want to create an altogether new survey so it's more business (or use case)-specific, you'll see the screen below. Pick Launch on your website from the list.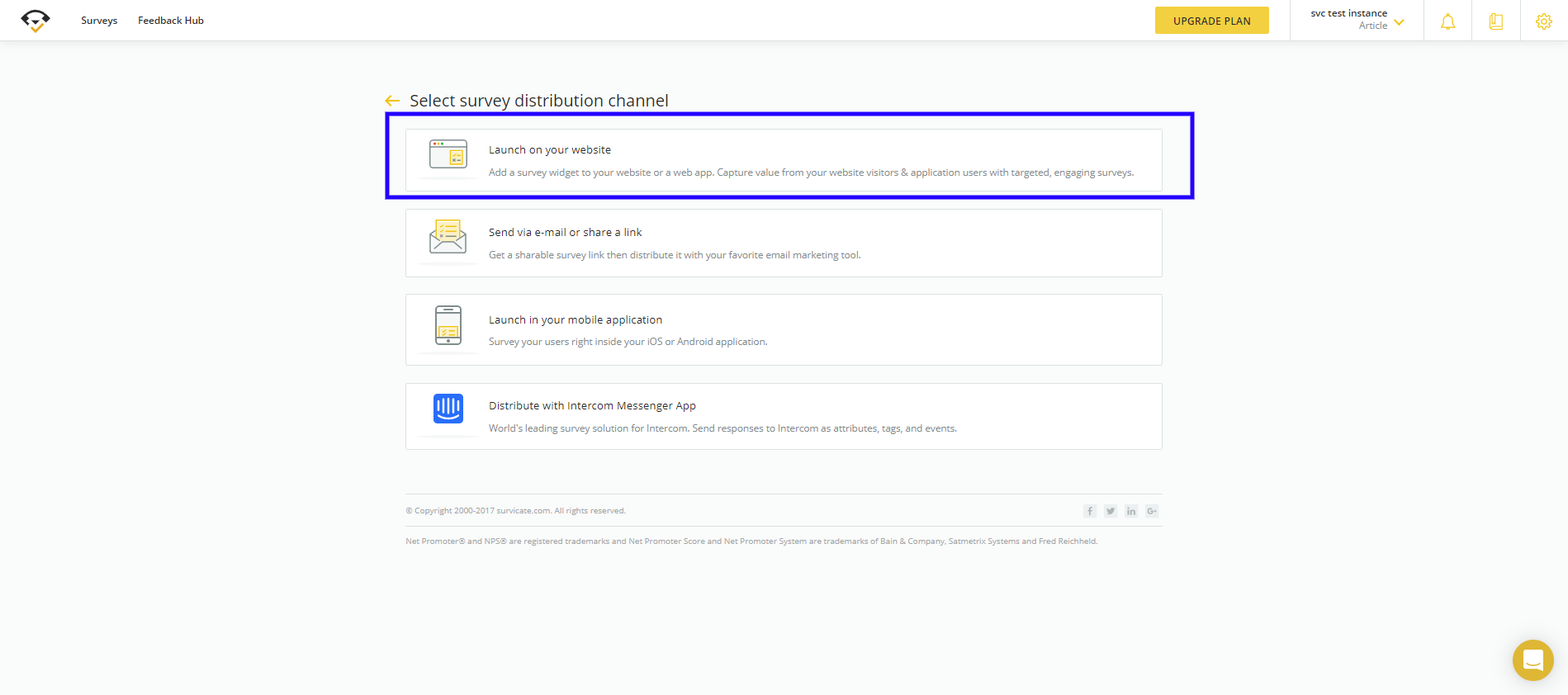 5. Specify the name of your survey. This is for your information only. The name will not be visible to your respondents. Afterwards, click on Create Survey.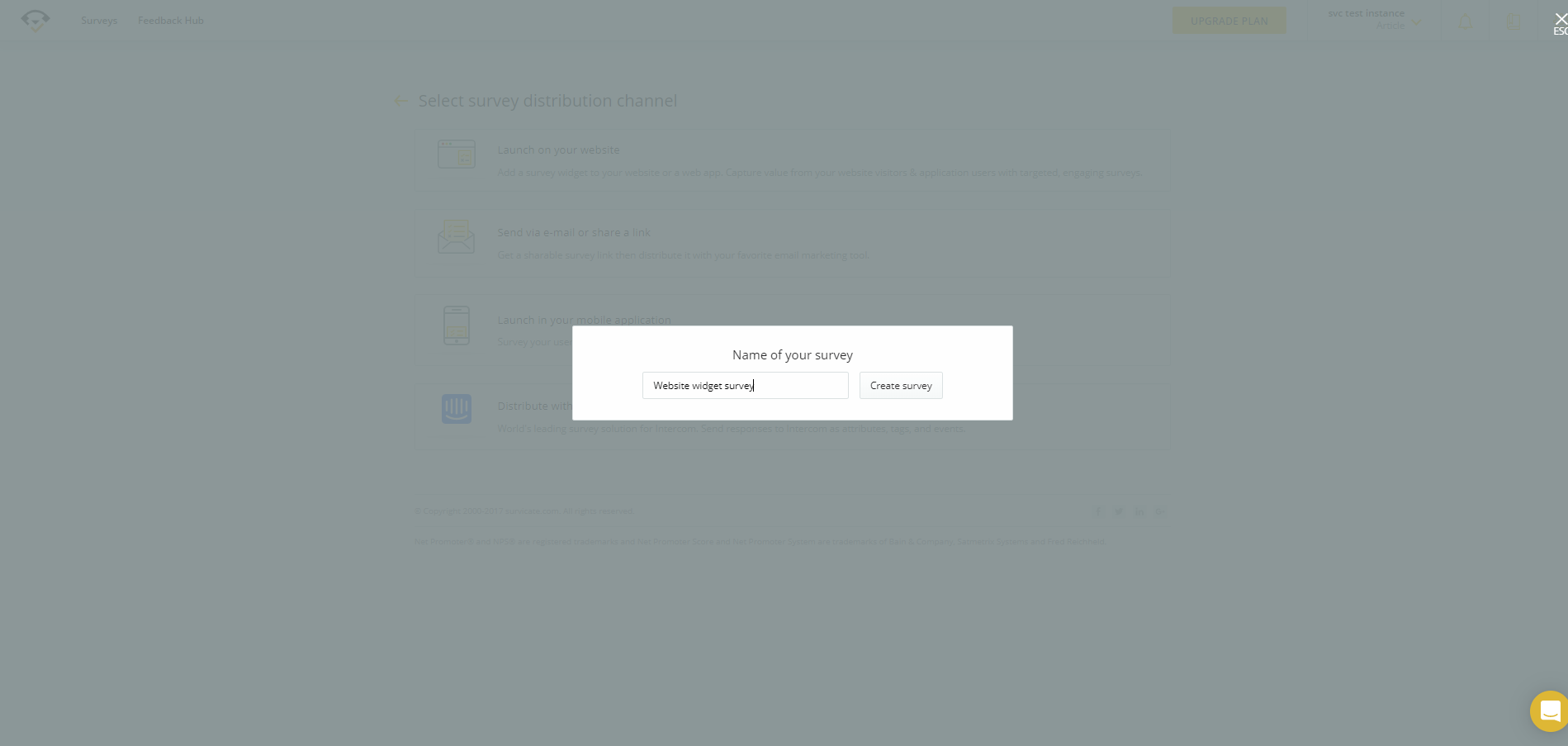 6. You'll now get to build up your survey. You can refer to these articles on how to create a survey and what question types you can choose from.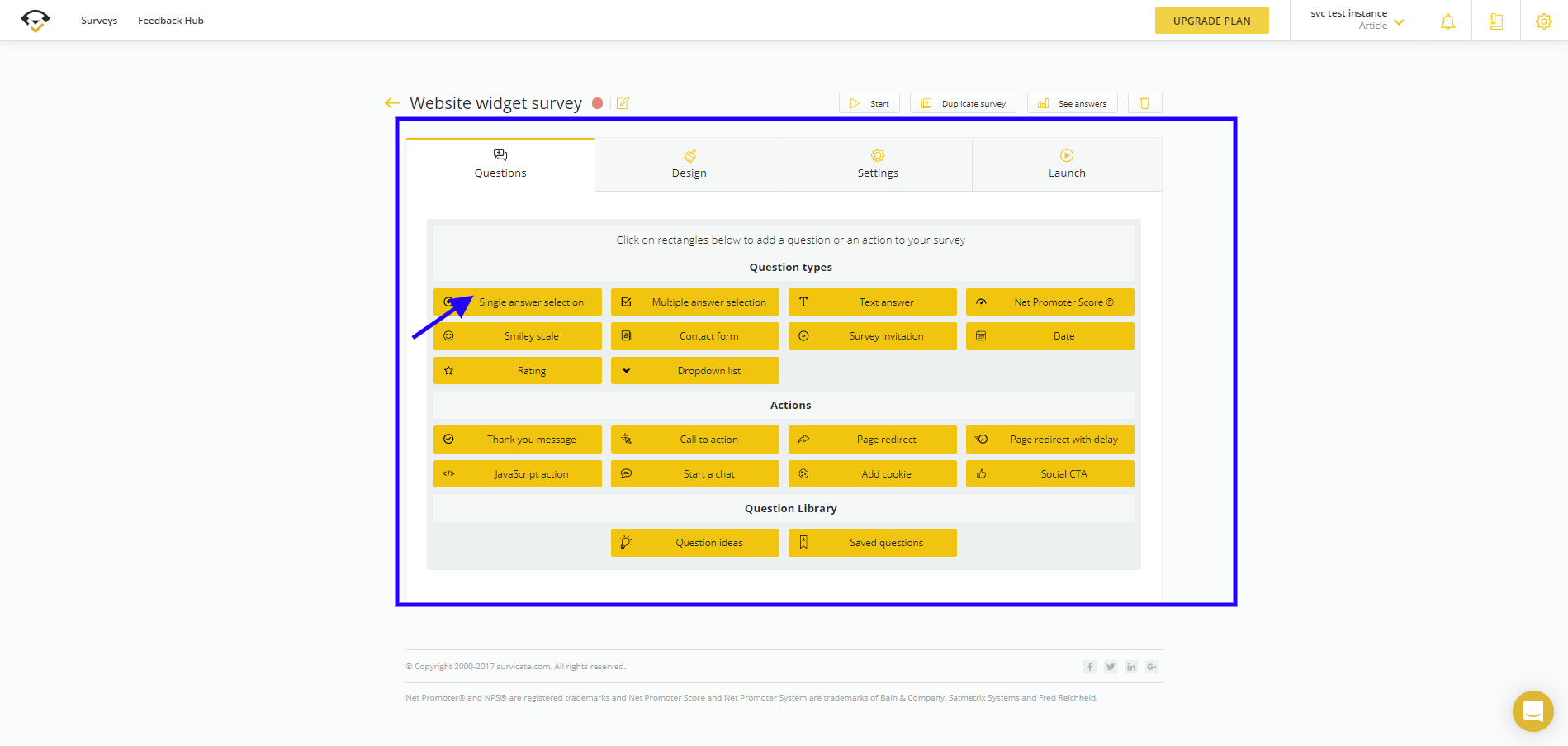 In short, Survicate allows you to either create short & quick surveys or the more complex ones where you can apply conditional logic. The latter involves adding follow-up questions depending on what the response to the previous question was.
You can add as many steps to your survey as you need. However, please bear in mind that the longer your survey is, the less likely people are to complete it. See our report on survey completion rate.
VIDEO: Let's create a sample skip logic survey.
What you see below is a regular Product Market Fit survey. However, what's worth noting, is that the survey uses different follow-up questions depending on the level of disappointment.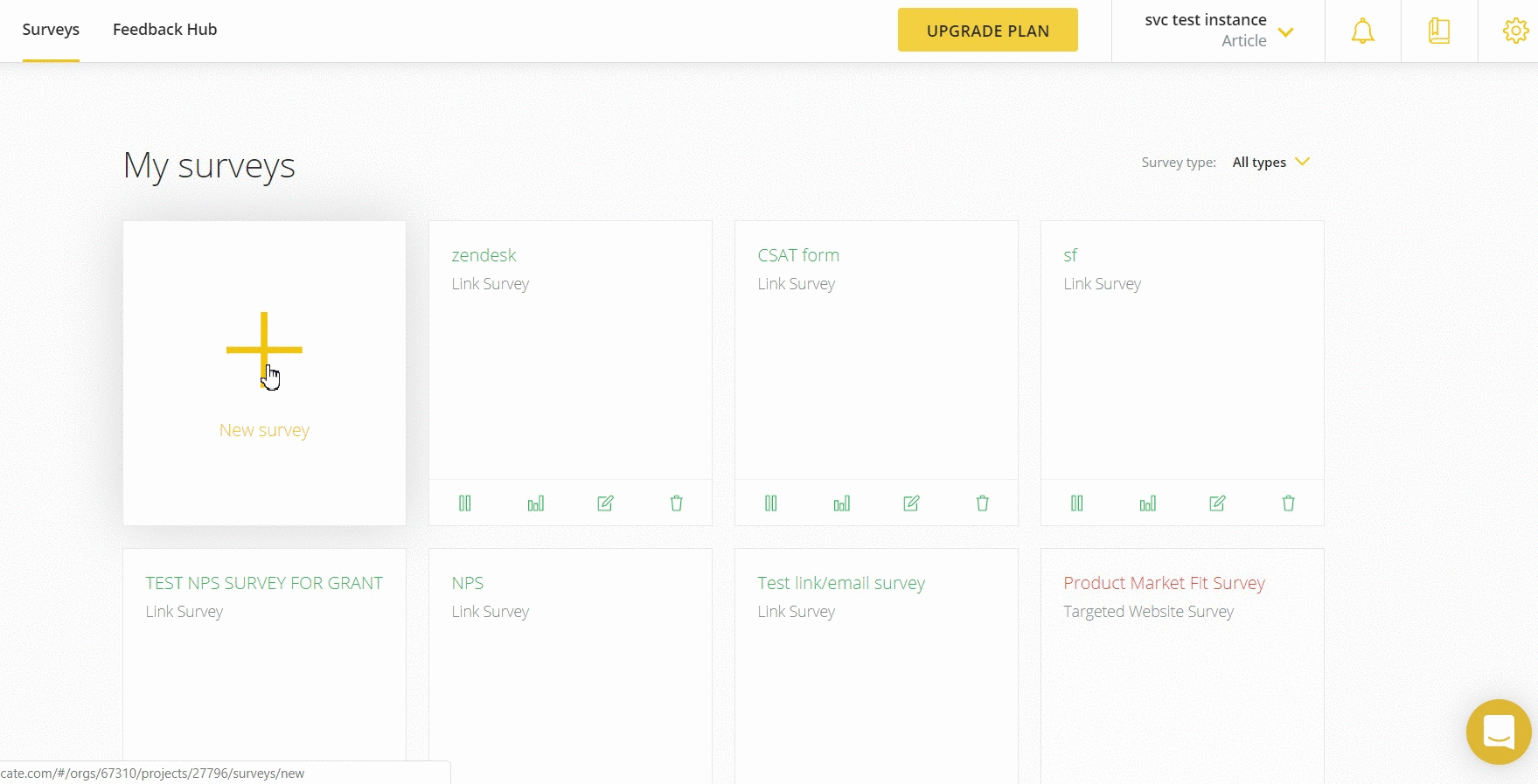 7. When you go on to Design, you'll be able to tweak the design of your survey by changing colors or adding the company logo. There's also a custom CSS feature available on some of the paid plans, which will allow you to further customize the design of your widget surveys.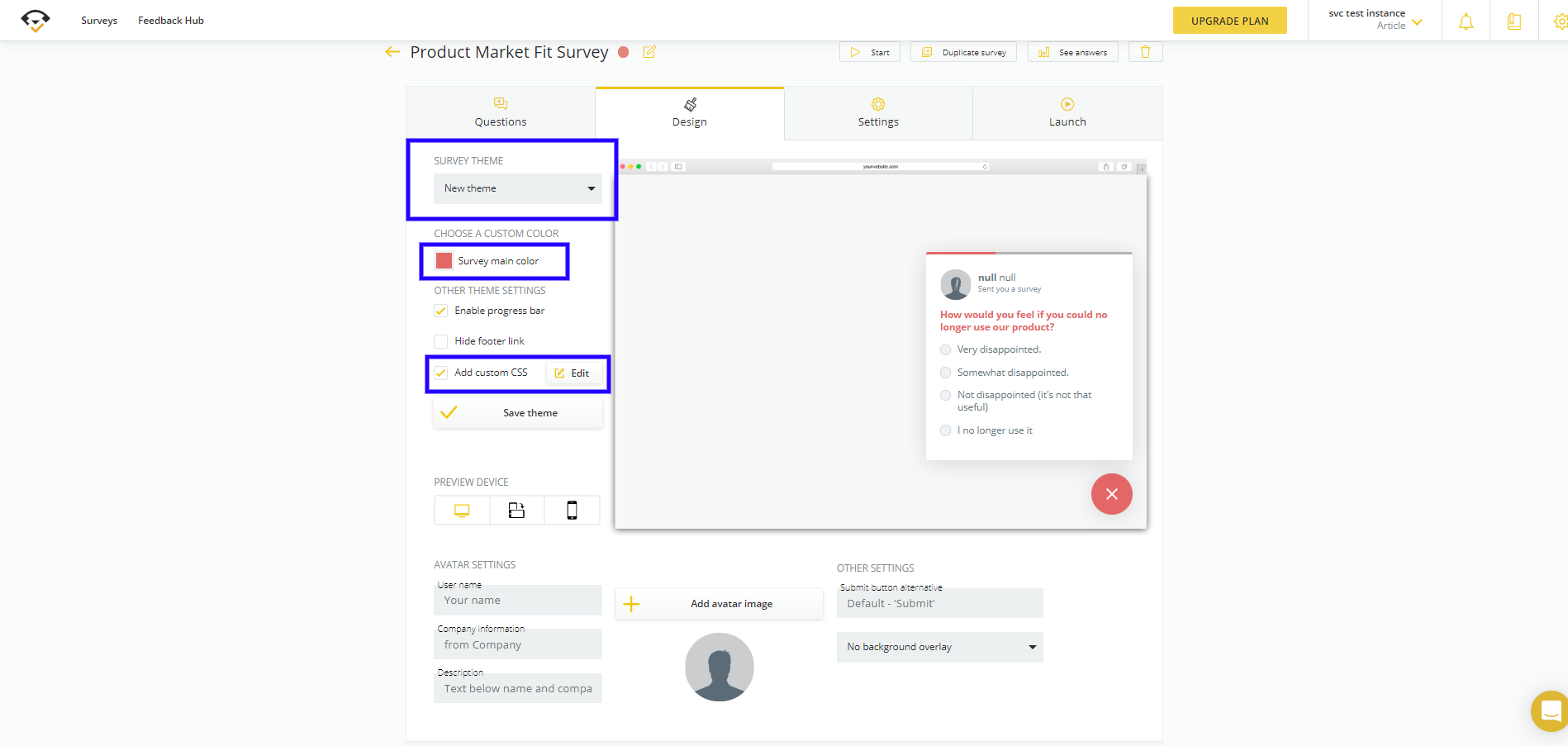 Targeting survey respondents & segmenting
You might have an idea of what sort of survey you'd like to display on your website by now. Who knows, you might have even created it!
It is extremely important that you display your survey to the right people. Why show a survey to someone who's unlikely to take it, or to visitors who are not relevant? The better you segment your visitors, the higher your response rate can be. It's worth targeting each survey at only those of your visitors who are likely to contribute meaningfully.
8. Survicate has got you covered here. We provide a vast array of targeting & segmenting options. In order to access the targeting & segmenting options, click on Settings as shown below. Here's a breakdown of the available settings.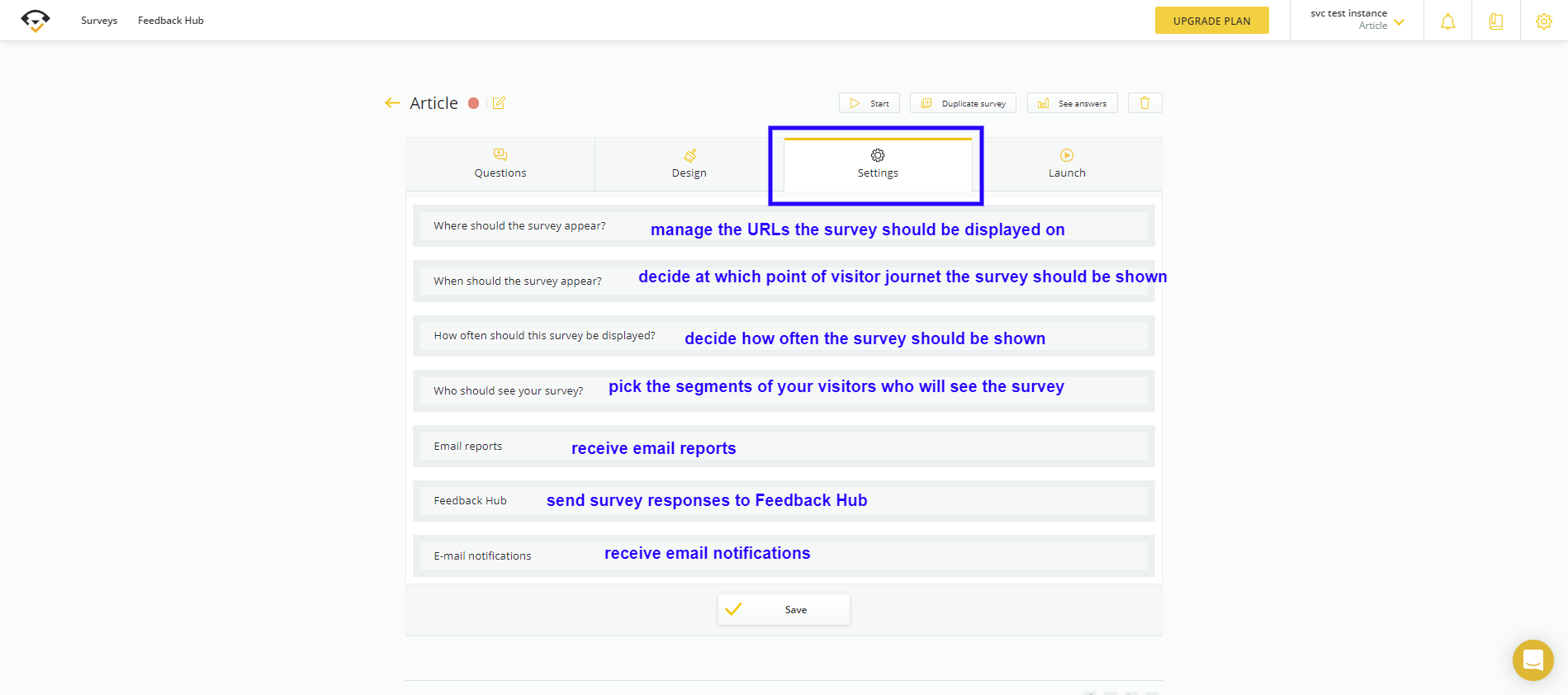 We have a dedicated knowledge base section devoted solely to Targeting. Please be sure to check it if you want to make sure you ask the right people the right question - what it matters most.
Launching a survey
9. At this point, you would have made sure your survey would be displayed on the website, created & customized the survey - arranged the order of questions and set up the survey's logic as well as targeted the survey at the right people.
Now that you have completed all the steps, you can launch your survey. Proceed to the tab which says Launch.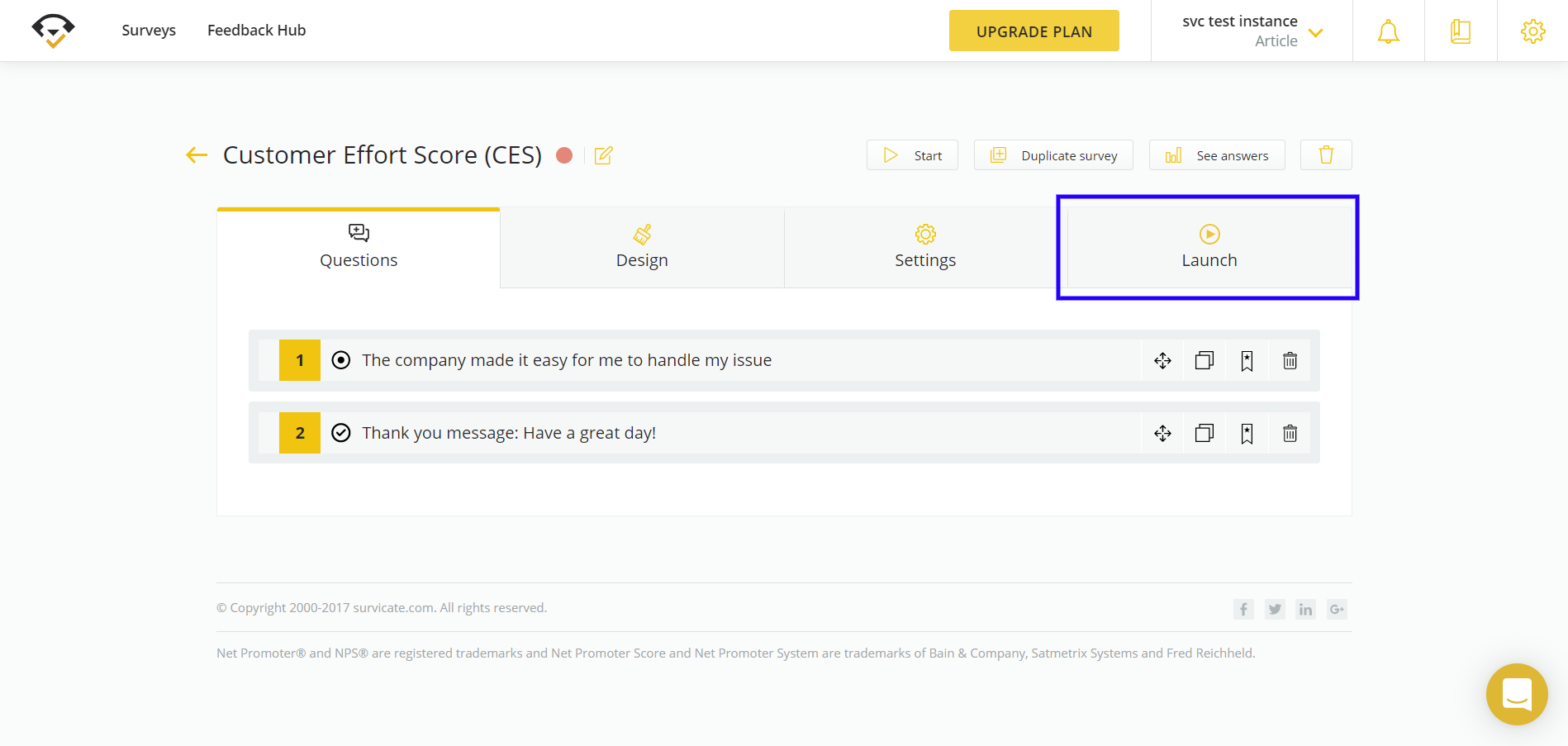 10. There are a couple of options to choose from, please find them explained below. If you launch the survey, the dot on the upper left-hand side will turn green.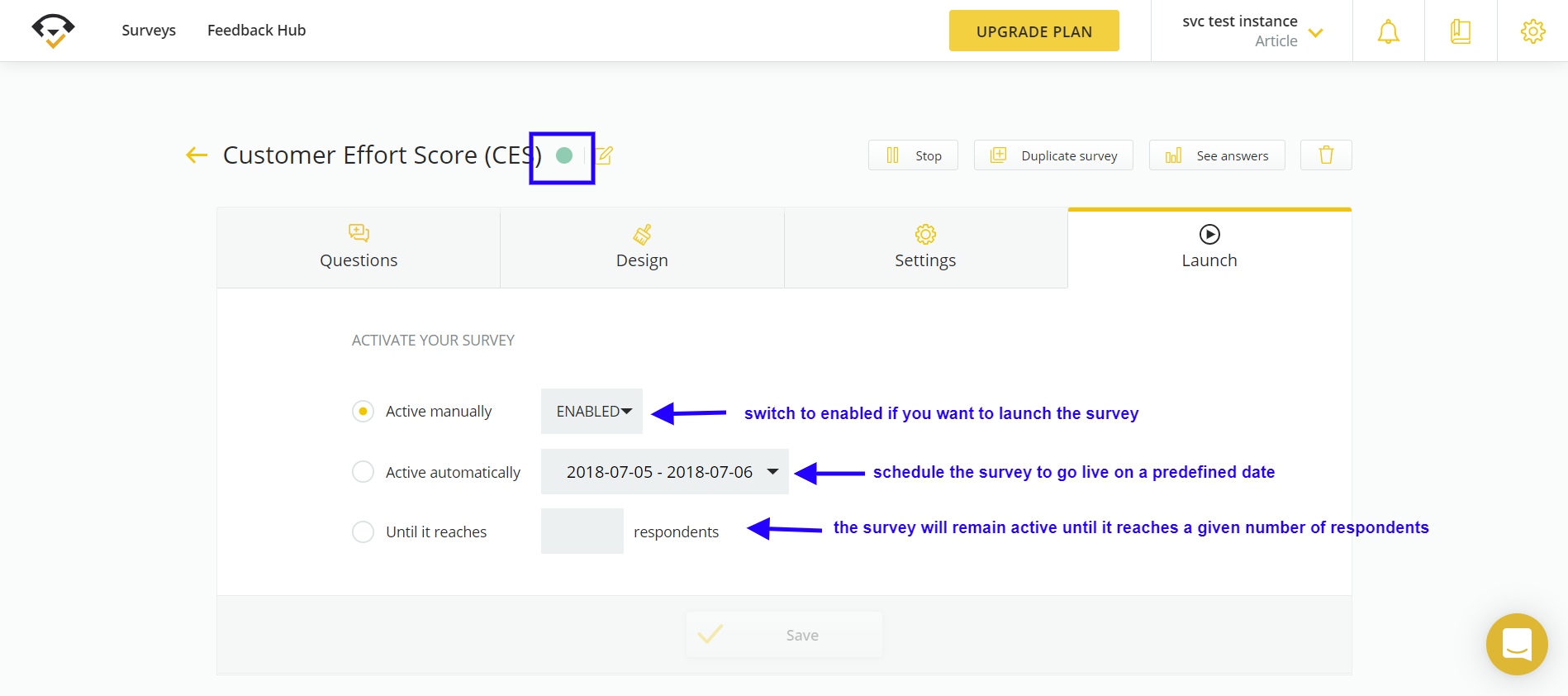 Available integrations
Survicate seamlessly connects with some of the most popular website optimization tools. The integrations are entirely automated and you can set them up in one click.
Combining quantitative data (what users did) with qualitative data (what users said) can lead to insightful discoveries. You'll be able to truly see who your visitors are. You'll learn why they behave as they do with powerful analytics coupled with survey insights!
Below are some of the available integrations along with a brief description.
| | |
| --- | --- |
| | send survey responses to Google Analytics as events to create custom segments of visitors |
| | associate survey responses with Full Story recordings and uncover the whys and wherefores of feedback you receive |
| | save survey responses as Segment events and further send them to other Segment destinations, use Segment-based data for detailed analysis |
| | send survey responses to any Slack channel of your choice so you can act on feedback in real time |
🚀 Armed with this knowledge, how about you try and set up your first website widget survey? You'll be amazed at how useful your survey insights can be!
💬 If you need our assistance, please reach out to us at support@survicate.com or strike up a chat conversation in the bottom right-hand corner.
✅ We'll be happy to discuss your use case and the finer features with you!
📚 Try completing our brand-new course on website widget surveys. Turn knowledge into action!
---
Do you find this helpful?
---