Marketo Integration
Marketo integration lets you sync answers from Survicate with your leads data in Marketo. With this feature you can:
send embedded surveys via Marketo mails with Marketo-aware links that allow you to collect respondents data along with the answers
create website surveys that will be assigned to specific respondents
view survey answers as Marketo lead fields values and activities
create leads with contact forms
Marketo configuration
To integrate Survicate with Marketo you need to prepare the environment for the integration inside Marketo. You will need:
A new role
A new API or API-only user
A new service (we will ask you for Client ID and Client secret of the service)
A REST Endpoint URL
💾 Save the REST Endpoint URL, Client ID and Client secret. You will need them later!
1️⃣ Create new role:
In Marketo go to Admin > Users & Roles > Roles > Create new role.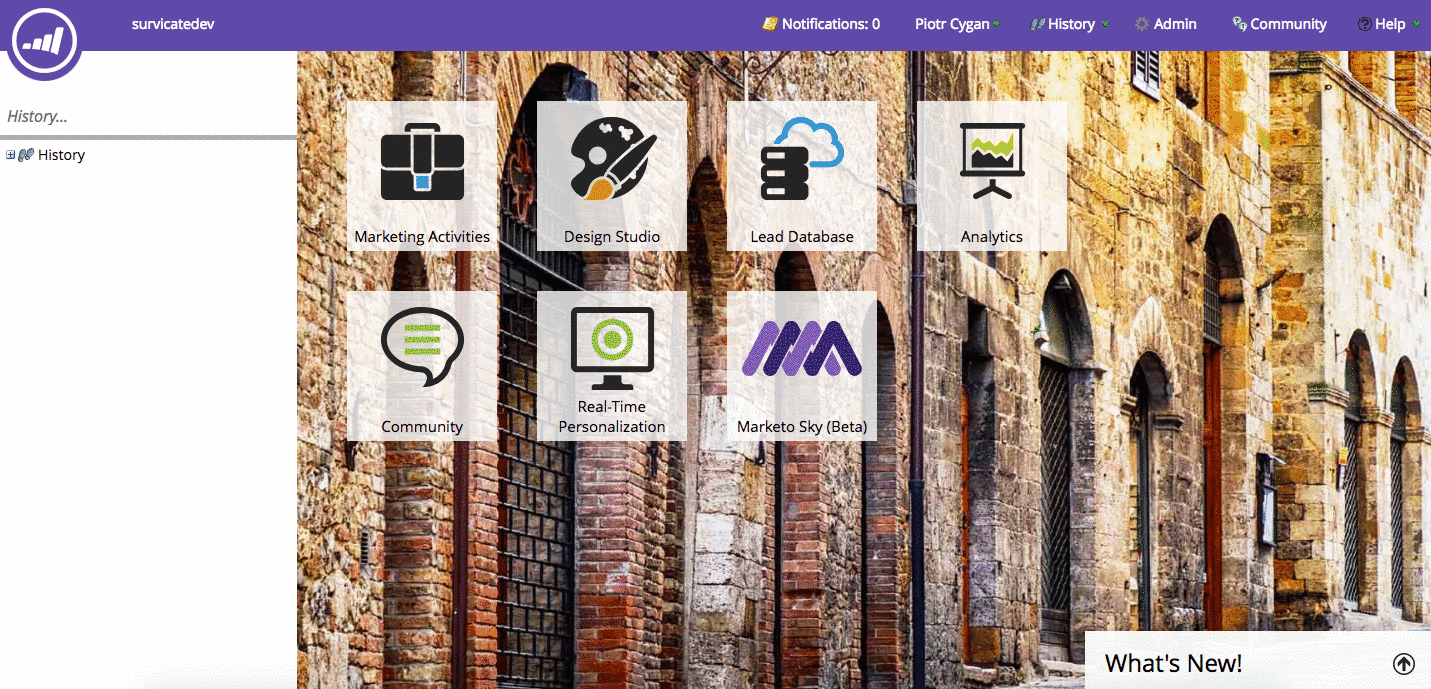 ️Minimal role permissions for the role are Read-Write Lead, Read-Write Activity, Read-Write Activity Metadata
2️⃣ Create a new API-only user:
In Marketo go to Admin > Users & Roles > Invite New User. Fill out the data, select proper roles (API, API-only) or other if you need and send the invite.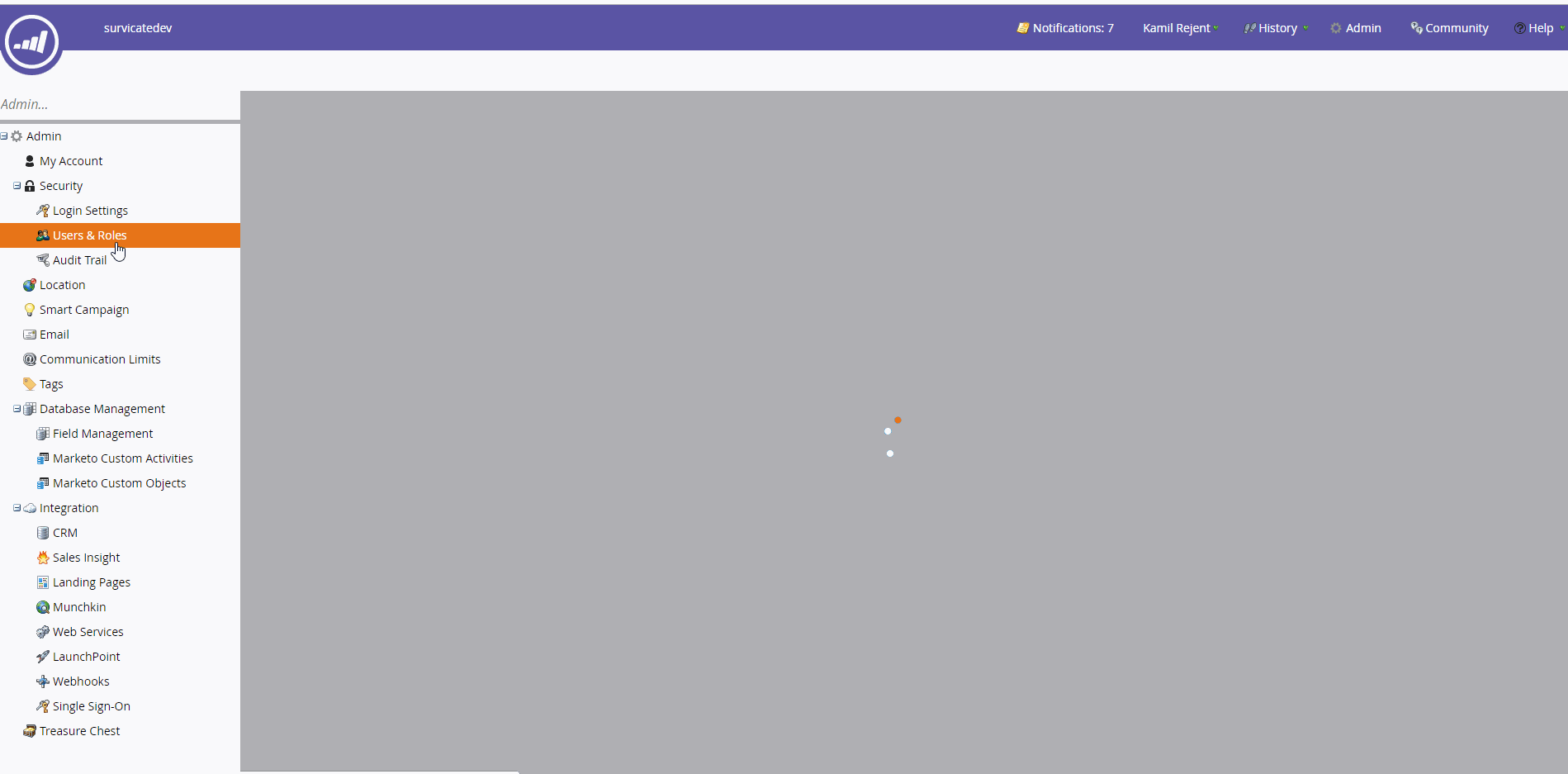 3️⃣ Create new service:
Go to Admin > LaunchPoint > New > New Service. Fill up the fields and create a service.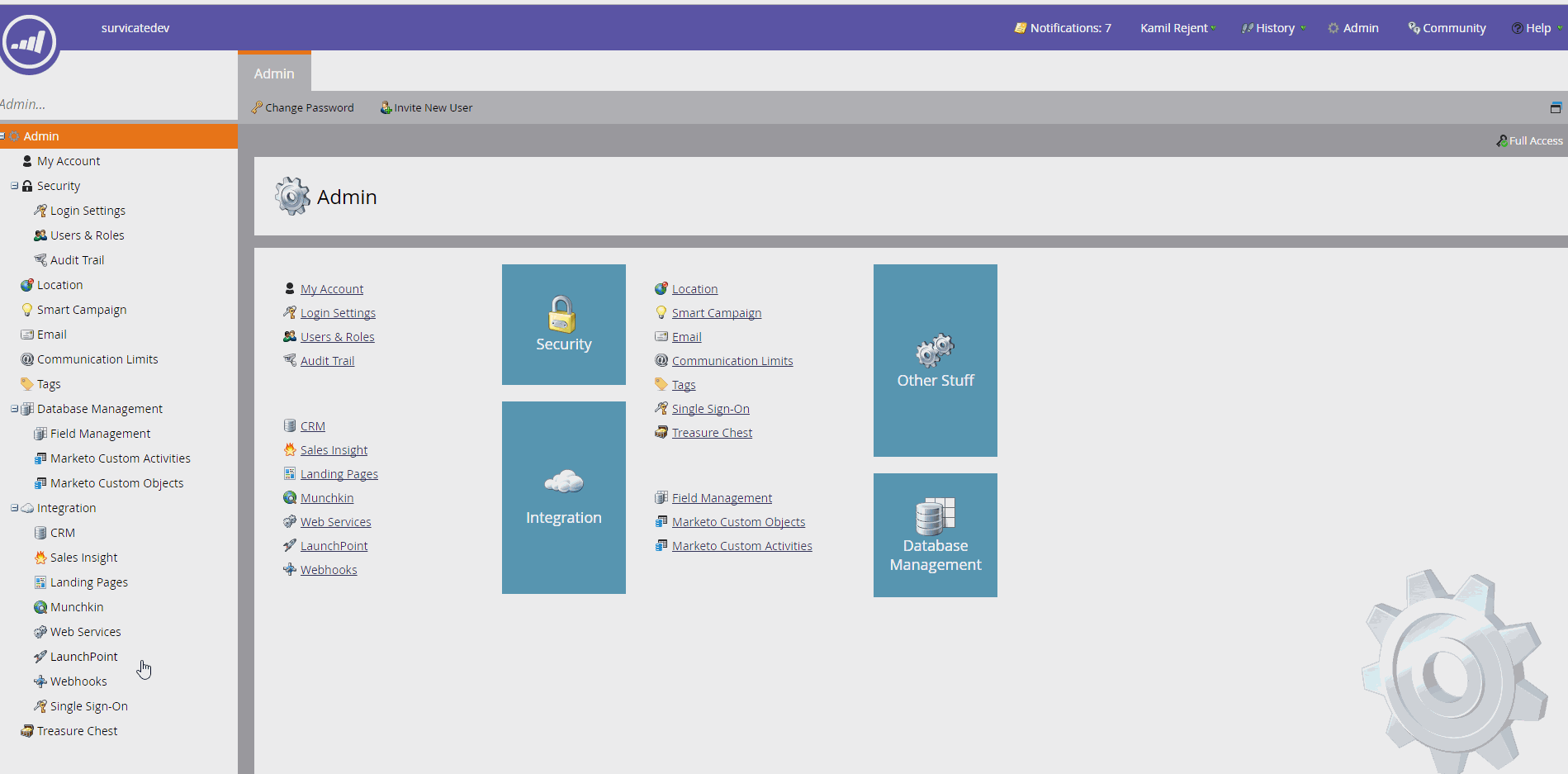 Once you have done that, click on "View Details". Client ID and Client Secret will be displayed here. Copy and paste these data to the Survicate authorization window.
4️⃣ Get the endpoint URL
Go to Admin > Web Services > REST API. Copy the Endpoint and paste it into the Survicate authorization window.
Survicate configuration
Once you have all required data from Marketo, it's time to Authorize the integration. Open the Survicate panel and go to Integrations > Marketo > Connect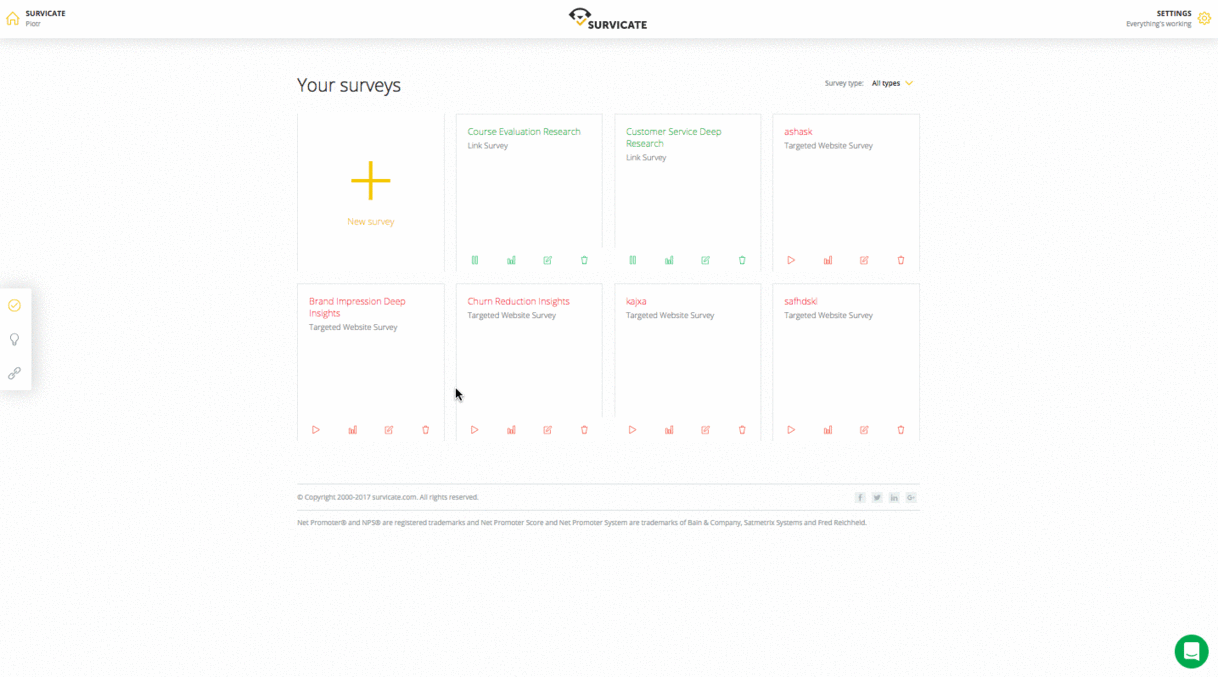 An authorization window will pop-up, asking you to enter your Client ID, Client secret, and the REST endpoint URL. Click Authorize once those are entered.
️ As you can see above you can set up three settings in the Marketo integration window: 
Create leads from Survicate contact forms: this function allows you to add a new lead to Marketo every time someone answers a contact form inside a survey
Synchronize anonymous answers after a visitor becomes a lead: With this function enabled we will send all the data gathered anonymously from a visitor once they fill a contact form and become a lead.
Anonymize leads: If you enable this feature we will not capture the email address of the lead you have sent your survey to- we will instead capture the Lead_id. This way you can make sure that no private data of your leads is stored with Survicate.
Survey-level integration
Once you have configured and authorized the integration go to the Survicate panel and create a new survey.
Sending activities to Marketo
Each answer can be sent to Marketo as Lead Activity: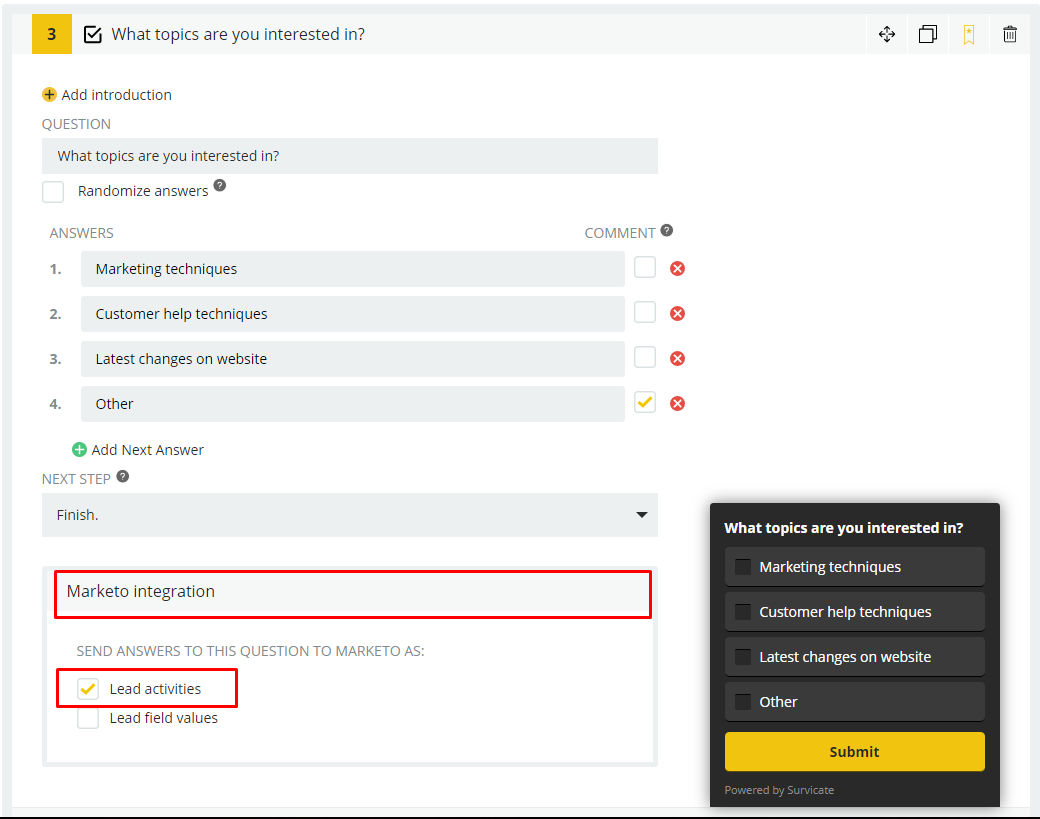 Once configured, the following data will be sent to the Lead Activity Log in Marketo: 
Survey name
Lead ID 
Question ID
Survey ID
Survey question
Survey answer
You can use these attributes to trigger automated campaigns in Marketo.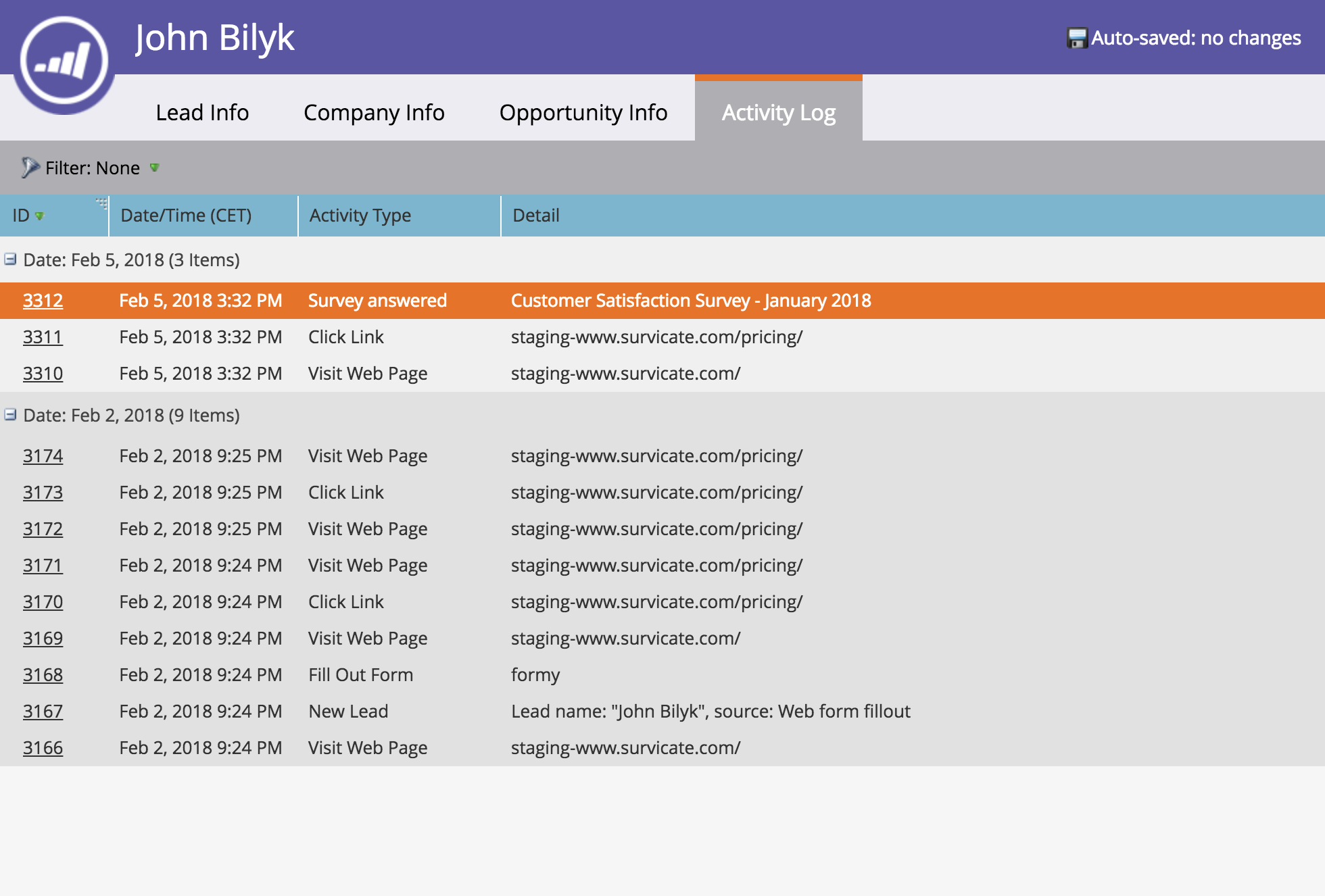 Sending Survicate answers as Marketo lead fields
Answers collected with Survicate can be sent to Marketo as lead field values.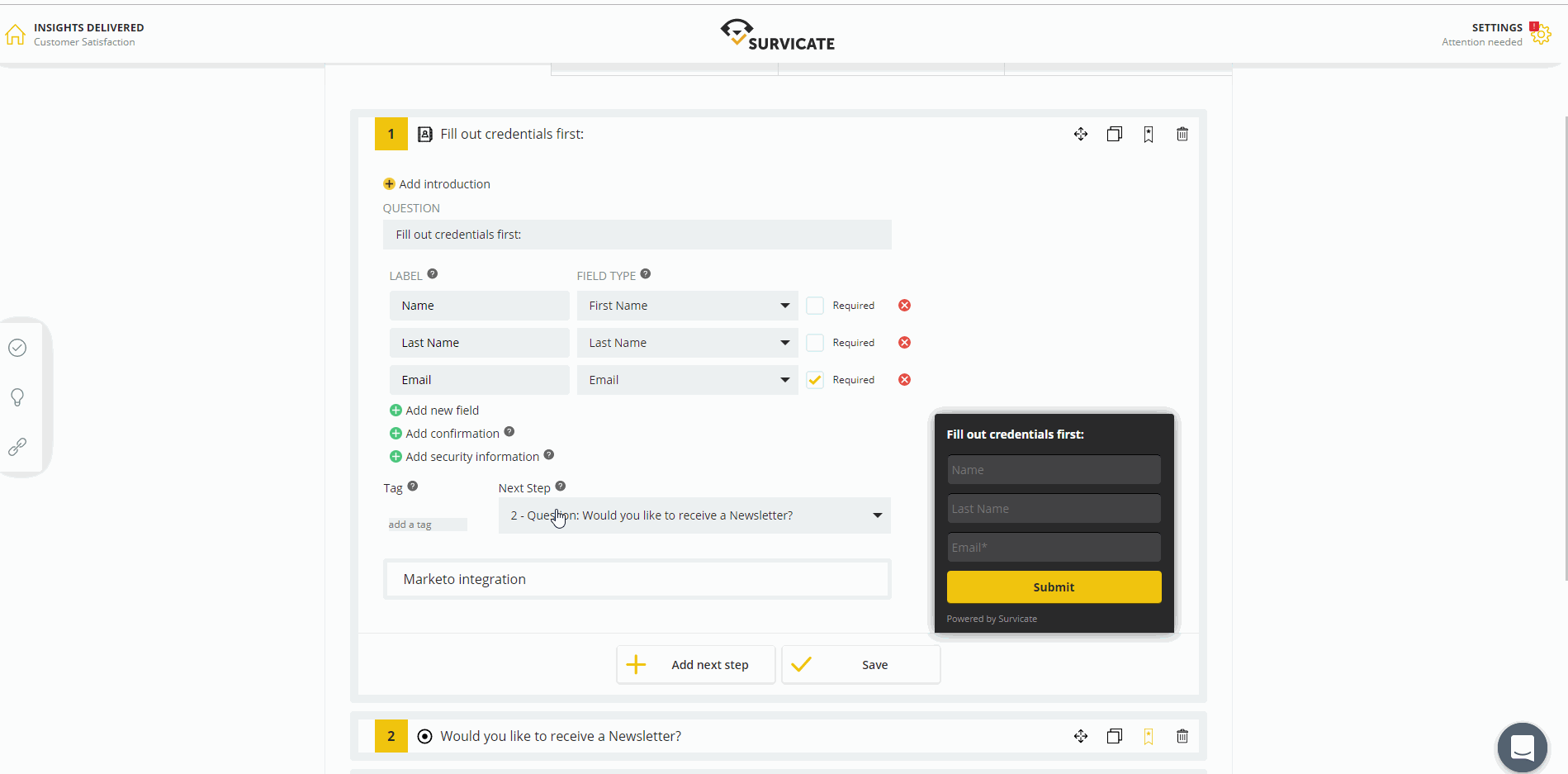 Survicate lets you map how the integration syncs the answers from your survey to your leads in Marketo. The mapping table lets you map custom values to Marketo fields to be passed with each response.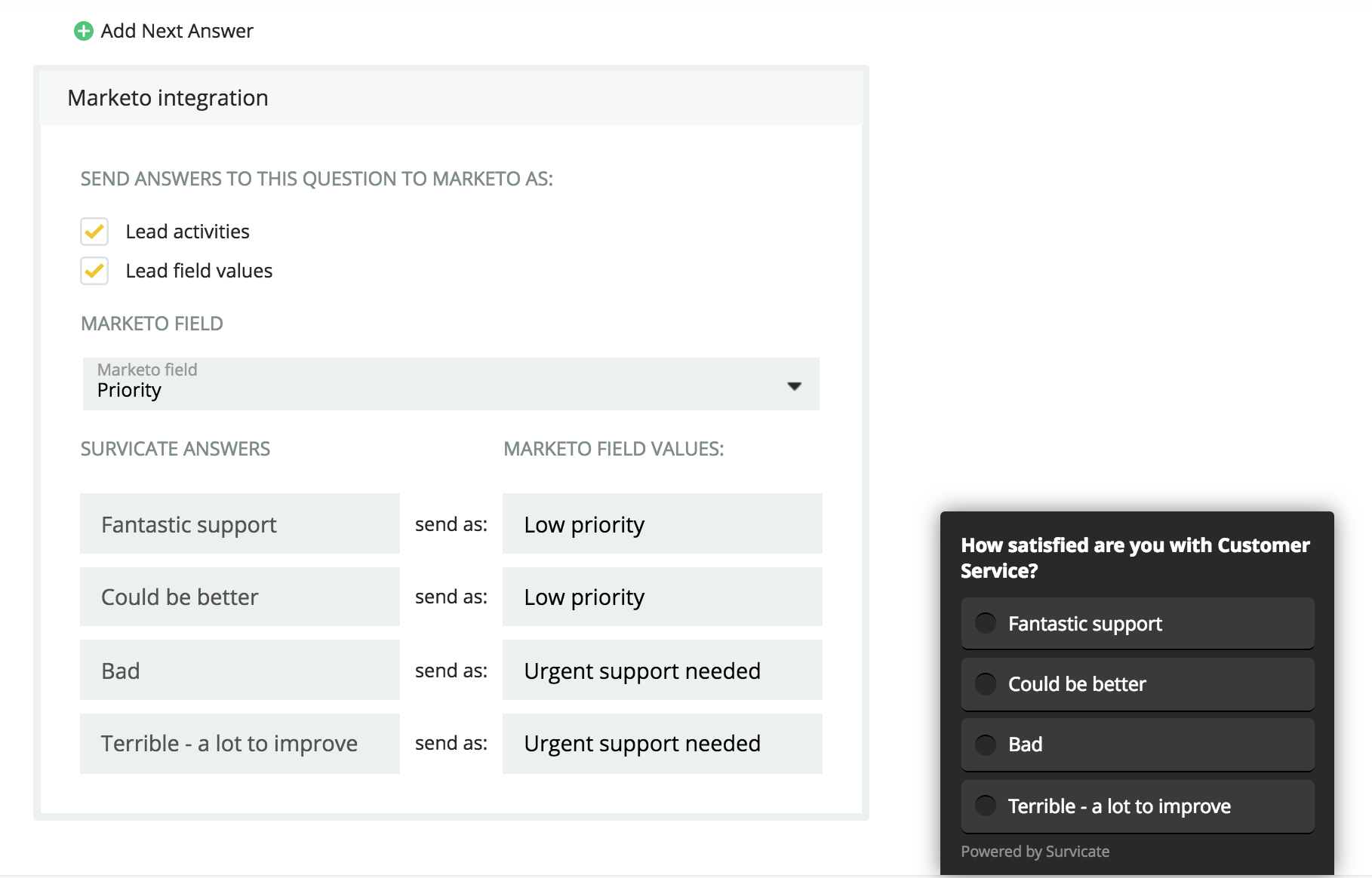 FAQ
Can I use this to target Marketo campaigns?
You can trigger personalised lead nurturing campaigns based on identified challenges, fears, jobs and more within Marketo basing on the values from a Survicate survey.
Can I send data to custom fields in Marketo?
Yes. We not only support sending data to default lead fields, but also to those you have created manually in Marketo.
Do you sync answers once an anonymous visitor becomes a lead?
Yes – we allow you to survey anonymous visitors throughout their visits, gradually gathering useful insights. Based on the information gathered, you can create specific segments and deepen your knowledge about them. Once they sign up with Survicate's or Marketo contact form - we push all the insights from Survicate to the Lead Profile in Marketo - even if they have been gathered with many different surveys. You get your newly created contact delivered with a package of actionable insights.
💬 If you have any questions or need help setting up Marketo integration, please feel free to reach out to our team. We are looking forward to arranging a 1:1 demo call to help you out in no time. 📞
---
Do you find this helpful?
---