Running website surveys - comprehensive guide
This article will guide you through effectively creating website surveys (sometimes referred to as widgets). We'll cover the entire process of setting up a survey. You'll learn how to create one, add it to your website and target it. You'll also find out how to analyze responses.
You can benefit from using Survicate website surveys in a multitude of ways:
Capture feedback from visitors in real time to ask spot-on questions
Collect contact information and increase conversion rate
Trigger a survey based on specific events such as exit intent or cart abandonment
Receive invaluable insights about your landing pages, post-purchase experience or cancellation reasons
Getting a survey to appear on your website
In order to run surveys on your website, you'll need to install Survicate's tracking code. Simply said, it's a snippet of JavaScript code that'll enable us to display surveys on your website as well as keep track of any responses you might receive. If you are not too tech savvy, you can use our one-click installation options or send the instructions to your developer.
Access your tracking code page under the Settings > Tracking Code
At this point, there a couple of options to choose from:
For more information about installing the tracking code, just check out
this article.
Creating a website survey
Now that you've ensured widget surveys would be displayed correctly on your website, let's create a sample website form.
When you log in to your account, you'll see the panel where you can view all surveys you've created - both active and inactive. To create a new survey click on Add New Survey +.
Now you get to decide whether you'd like to create a survey of your own or choose from some ready-to-use surveys.
If you select a template, don't forget to pick website survey as the distribution channel: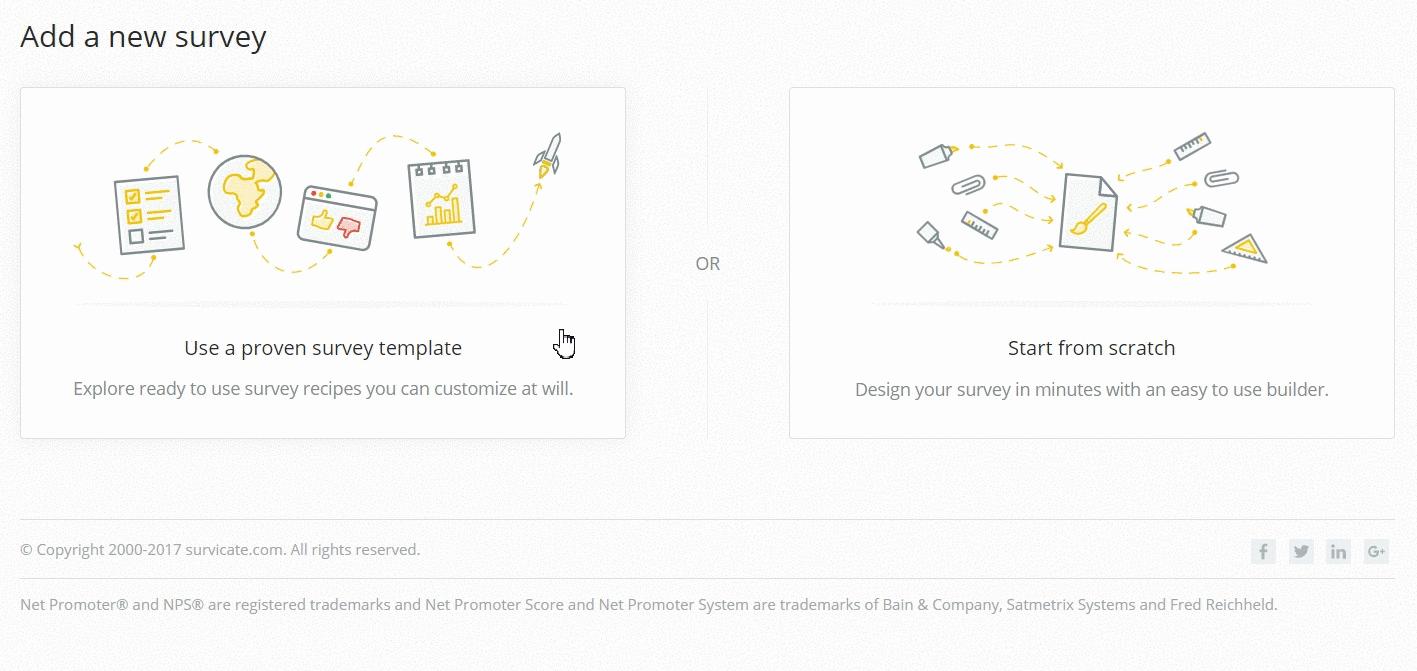 To guide you through creating a survey, we are going to create a survey from scratch. To create a website survey, choose Website or web app widget and give a name.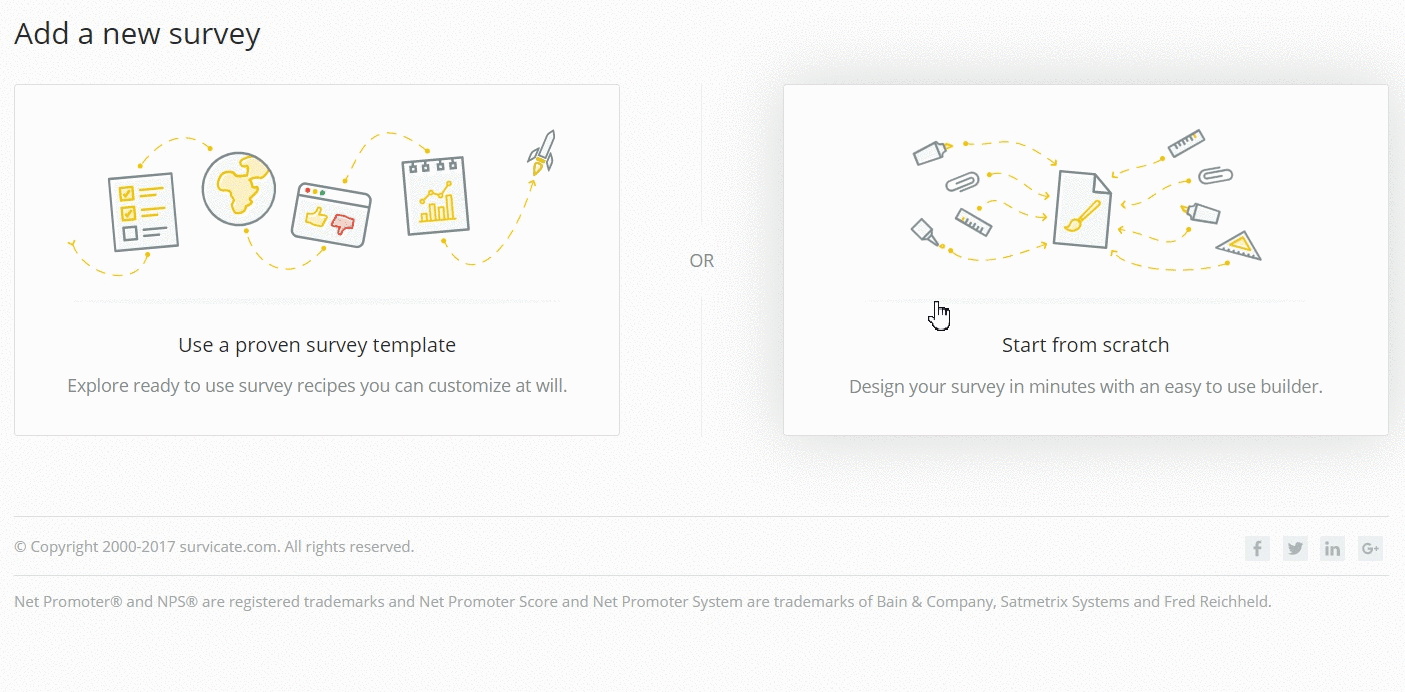 Add your questions and apply logic
You'll now get to build up your survey. We'll be creating a basic survey that consists of three steps.
First question - single choice question
Follow-up question - text answer question
Finishing Action - thank you message
We'll then apply survey skip logic to customize the survey depending on what the response to the previous question was. You can add as many steps to your survey as you need. However, please bear in mind that the longer your survey is the less likely people are to complete it. See our report on survey completion rate.
Start with adding a single choice question:
Then add a follow-up question by clicking Add next step. Let's make it an open-ended question (text answer).
To finalize the survey, you can set an action based on what you want your respondents to do next. You can add social call-to-actions, route them to another page, or simply add a thank you message as shown below:
It's time to apply survey skip logic (logic jump) to our survey. You'll get to route respondents to the different next steps based on what the response to the previous question was. In this example, only those of the respondents who answered "It needs improvement" will get a follow-up question. Let's change the next step accordingly: 
Skip logic works with single-response questions only (Such as single choice, NPS, rating, smiley scale and drop down). Questions with multiple answers can only lead to a single next step.
Design and preview your survey
In the Design tab, you'll customize the design of your surveys so it is in line with your company's branding. You'll be able to tweak your survey by changing survey colors or adding your company logo. You can also customize the copy of survey buttons and the different survey messages. There's also a custom CSS feature available on some of the paid plans.
You can also test-complete the survey as if you were a respondent:
Survey settings and targeting
You might have an idea of what sort of survey you'd like to display on your website by now. Who knows, you might have even created it!
It is extremely important that you display your survey to the right people. Why show a survey to someone who's unlikely to take it, or to visitors who are not relevant? The better you segment your visitors the higher your response rate can be. It's worth targeting each survey at only those of your visitors who are likely to contribute meaningfully.
In order to access the targeting & segmenting options, go to your Settings tab.

Where should the survey appear - Manage the URLs the survey should be displayed on
When should the survey appear - Decide at which point of the visitor journey your survey should show up. For instance, you can use exit intent surveys to find out why visitors are bouncing or not converting
How often should the survey be displayed? - Pick the frequency with which you'd like to show a survey
Who should see your survey - Create user segments based on various parameters like number of visits, language, custom attributes etc.
We have a dedicated knowledge base section devoted solely to
Targeting
. Please be sure to check it if you want to make sure you ask the right people the right question at the right time. You'll then collect the most relevant and valuable insights.
If you are more of an email person, you can enable email notifications (sent after every response in real time). You can get these sent out to any email addresses you like. You can find more information about setting up email notifications here: Email notifications

It's possible to
enable daily/weekly/monthly email survey reports
. Check out this article to learn more:
Email Reports
You can send responses to Feedback Hub. It's a stand-alone Survicate product which helps you organize and analyze feedback received from different sources (more information here). Here's how to enable it:
Just click on Feedback Hub in the upper left corner of your panel:
Integrate your survey
Survicate seamlessly connects with some of the most popular website optimization tools.
Combining quantitative data (what users did) with qualitative data (what users said) will lead to insightful discoveries.
Below are some of the available integrations along with a brief description.
| | |
| --- | --- |
| | Send survey responses to Google Analytics as events to create custom segments of visitors |
| | Associate survey responses with Full Story recordings and uncover the whys and wherefores of feedback you receive |
| | Save survey responses as Segment events and further send them to other Segment destinations, use Segment-based data for detailed analysis |
| | Send survey responses to any Slack channel of your choice so you can act on feedback in real time |
Launch your survey
Once you're done, you can start your survey directly from the main page:
Or from the edit section:
You can also schedule your survey to go live on a certain date or stop after you've collected a given number of responses. Navigate to the Launch tab to make use of these two options.

Whenever you make changes to your survey's set up, they take a couple of minutes to take effect.
Analyzing your results
Once your survey has gone live and you've collected responses, you can view them in the Analysis. Access results by simply clicking on the survey in the main dashboard.
Under the Survey Results, you can see a general overview of all your responses.
Narrow down the results by applying various filters. Just click on Show Filters and decide how you'd like to filter the results:
In the Survey Respondents tab, you can analyze responses one by one by clicking on the response. Discover the ins and outs of each response given:
Under Reports tab, you can enable daily, weekly or monthly survey reports To activate, enter the email address on which we will send the reports. You can also enable reports for multiple email addresses.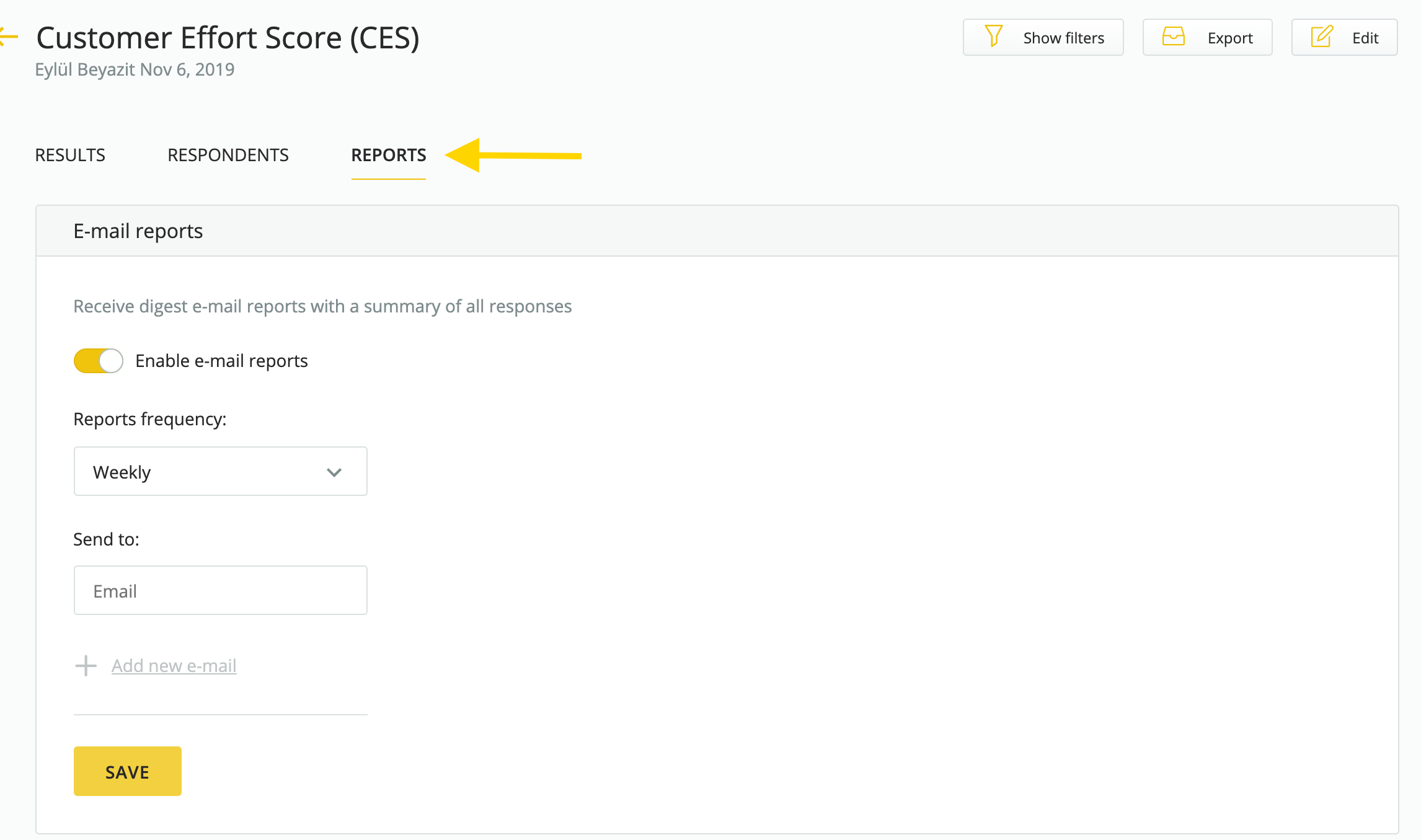 🚀 Armed with this knowledge, how about you try and set up your first website widget survey? You'll be amazed at how useful your survey insights can be!
💬 If you need our assistance, please reach out to us at support@survicate.com or strike up a chat conversation 👉.
---
Do you find this helpful?
---