HubSpot integration
Survicate and HubSpot integration allows you to send survey responses to your lead properties. You can use it for better segmentation, lead grading and qualification. The set up is very easy and can be finished in less than 5 minutes.
How it works?
Question level integration - for each survey question you can decide if you want to send responses to a chosen property or not
You can choose existing properties from the list, or create a new one without leaving Survicate
Responses are sent in real time
You can use Survicate contact forms to generate new leads in HubSpot
We will assign responses from website surveys to correct lead using HubSpot cookie
How to enable HubSpot integration
Just go to Settings > Integrations, find HubSpot on a list, click Authorise and provide your credentials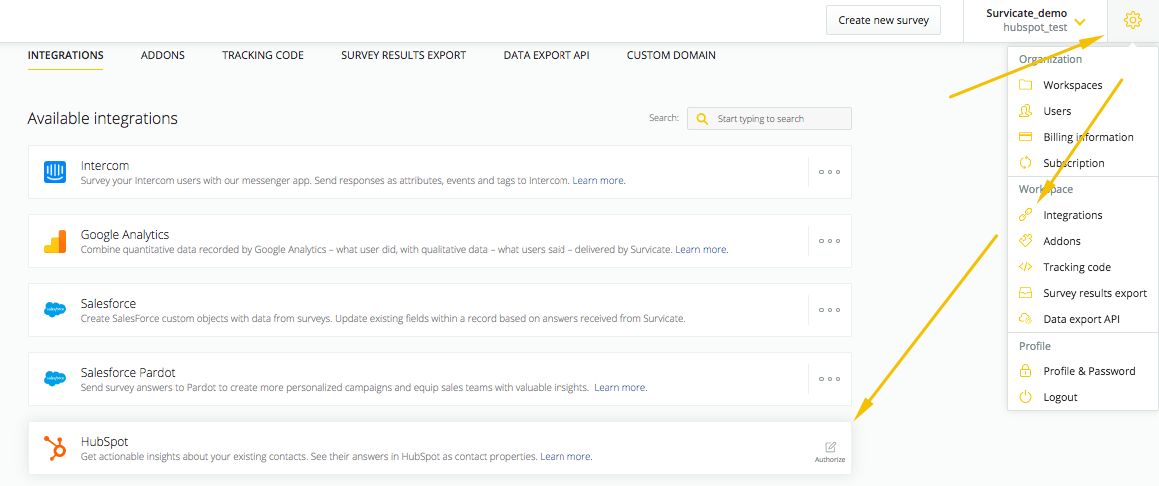 Adding answers as HubSpot properties
As long as you have integration enabled you can transfer all the responses to update information about your clients. 

Go to the Survey edit > Questions to see the HubSpot integration button on the bottom of the question setup: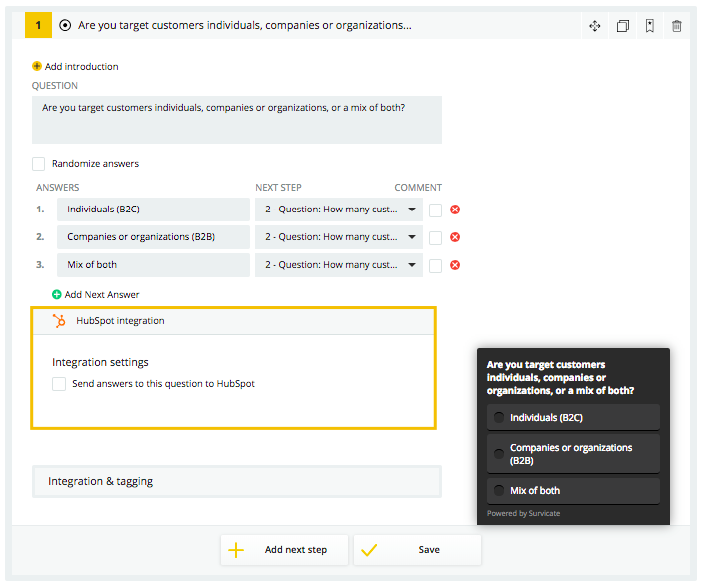 Here are the types of HubSpot fields that Survicate supports. Please be sure that you want to send survey responses to one of these fields:
• Multiple choice checkboxes, dropdown
•  Dropdown (select) 
• Radio 
• Text field (string)
Click it, tick a box Send answers to this question to HubSpot and choose a field you want to feed with Survicate data. You can pick one from the list, or add a new one- just write the name of new property: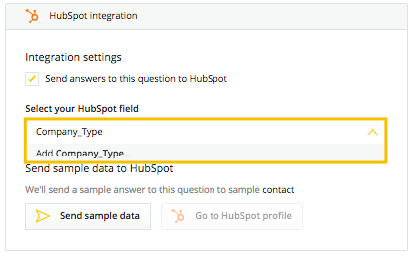 Then set up how answers should be displayed in HubSpot: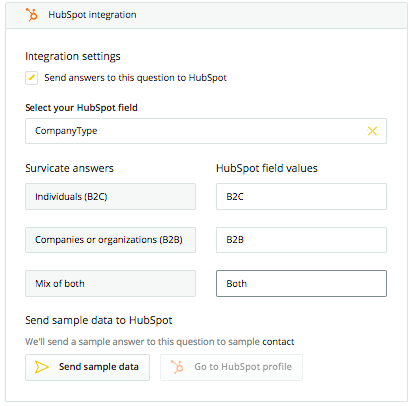 As soon as you set everything up, the integration is working and you're welcome to test it.
If you are a user of Hubspot Marketing Hub emails, you can start using Hubspot integration right away.
If you are using
other Hubspot plans
, please note that sending an email from the contact record view is not sufficient for us to capture the email information, due to Hubspot's restriction on personalization tokens. Therefore integration would not work.
In this case, you can use
Hubspot Marketing Emails made in drag&drop editor
to ensure that the data is flowing into Hubspot.
If you are willing to use other email types, make sure to include contact form email question as required in order for the integration to work.
Testing the integration
Click on Send sample data button and Go to HubSpot profile to view newly created user with the activity recorded:

If you want to see custom properties from Survicate, please go to View all properties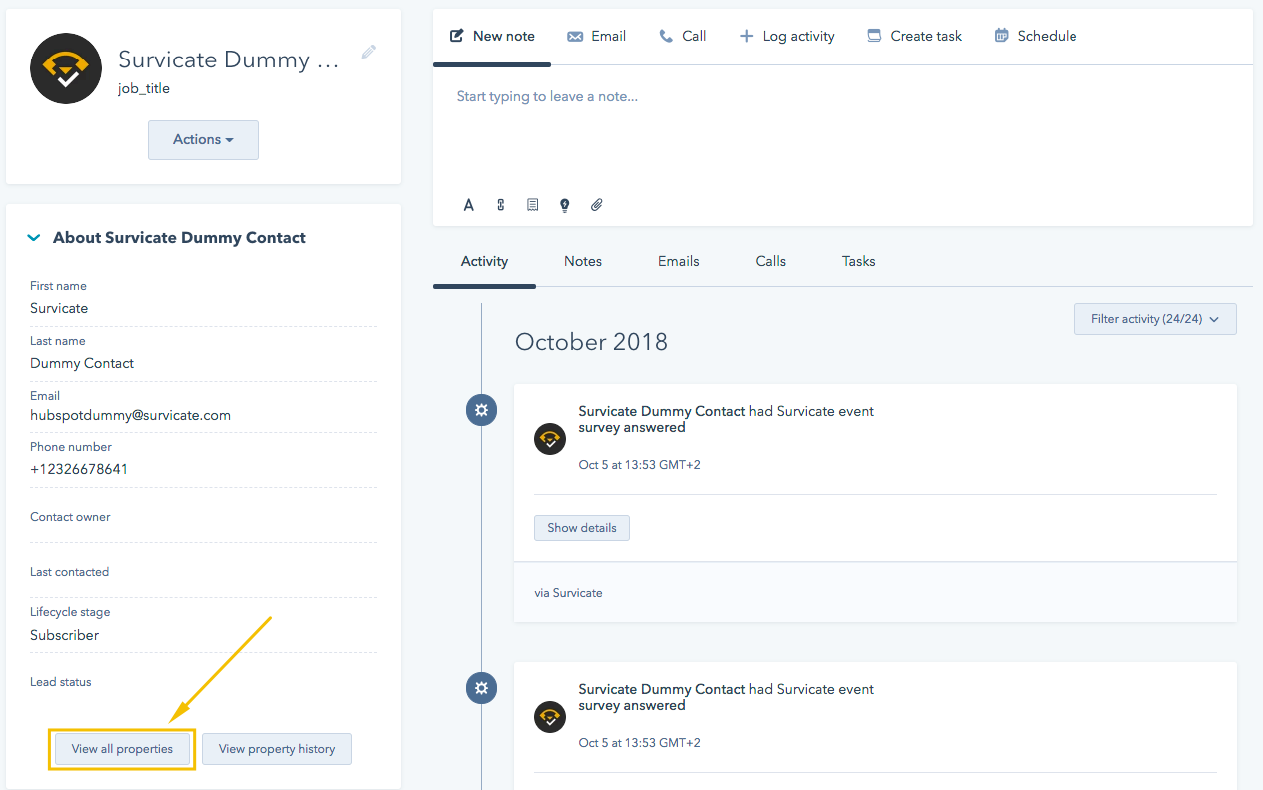 Survey results can be seen in Insights from Survicate section: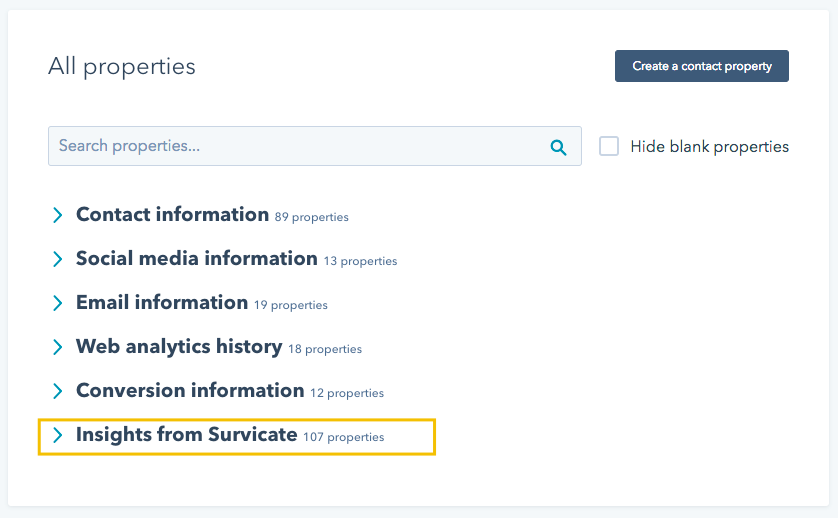 Survicate events are switched off by default. If you want to see the event that was created upon survey completion, be sure to click on Filter Activity and then pick Survicate from the list: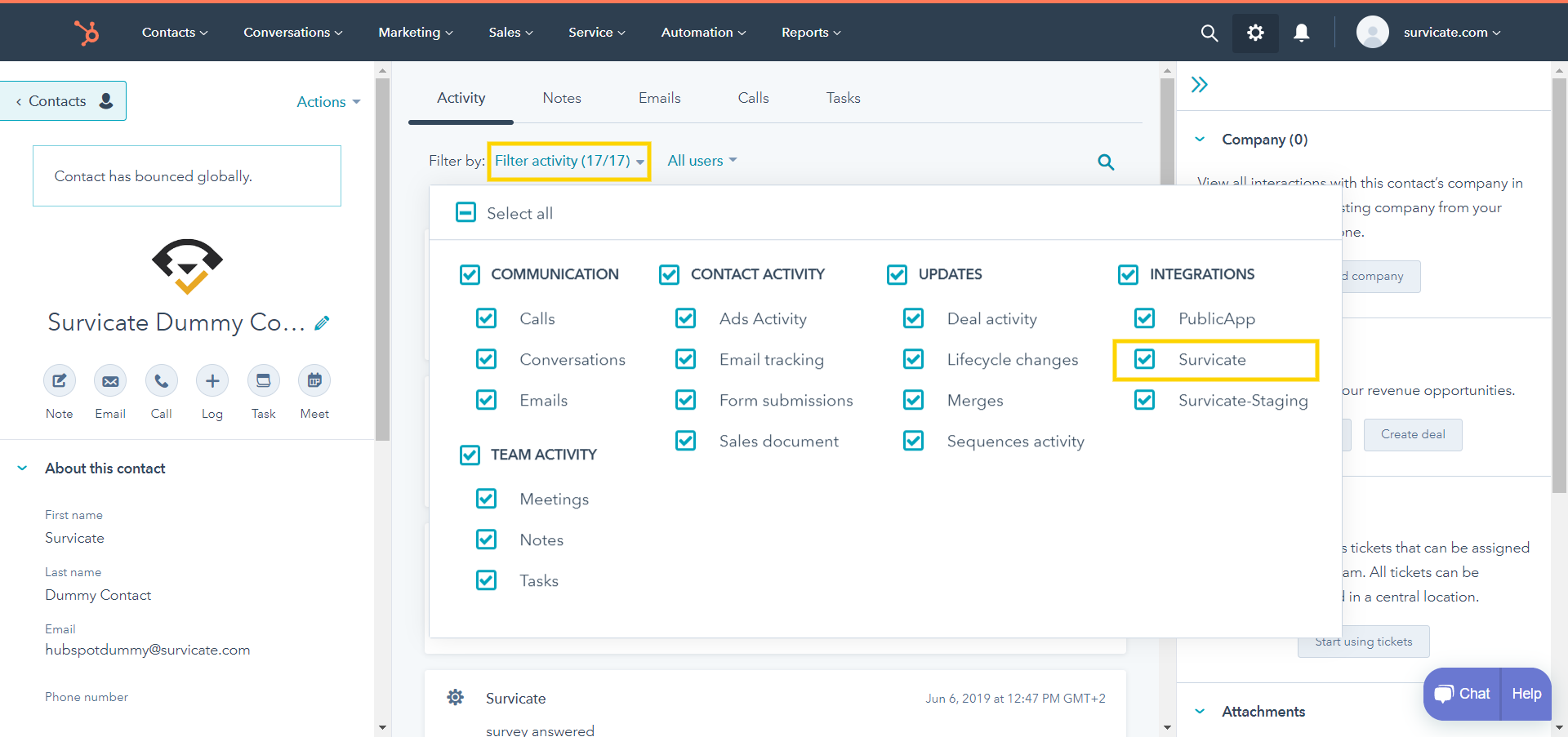 Survicate properties are switched off by default. If you'd like to see the field that was populated with survey data, be sure to add the property to the contact view: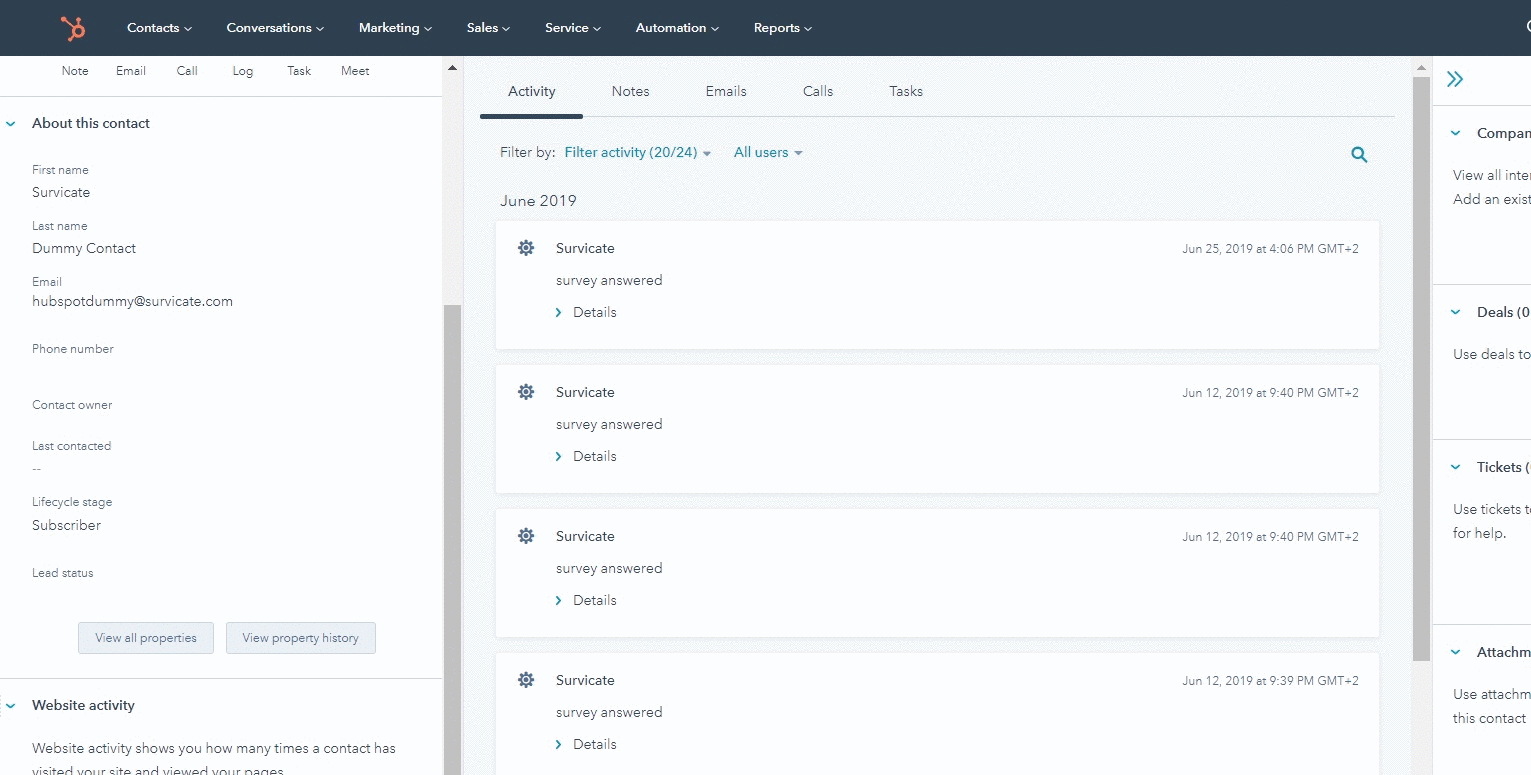 Creating a Contact from a contact form
To create a Prospect from Survicate all you need to do is open a contact form and click HubSpot integration > Send answers to this question to HubSpot > Create new prospects in HubSpot > Automatically add created contacts to selected HubSpot list and pick or add a list.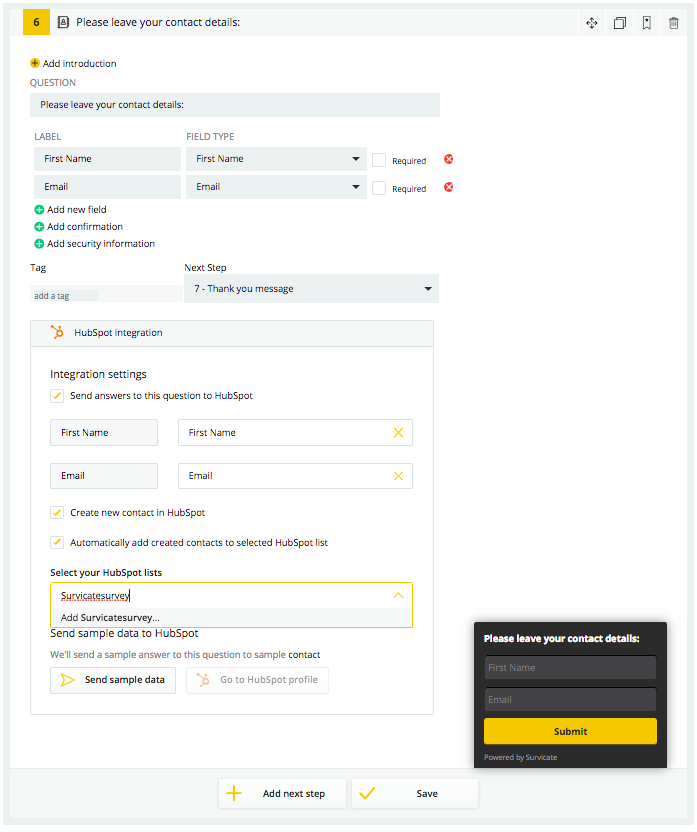 Make sure to include the email field in your contact form in order to create a new prospect.
Need any further assistance?
📞 If you have any questions about the setup, best practices and use cases we would love to arrange a quick demo to help you get things going. 😃
---
Do you find this helpful?
---