Targeting surveys based on visitor's behaviour
You can target your visitors based on their behaviour in your website or web app. To define these settings go to Edit > Settings > Who should see your survey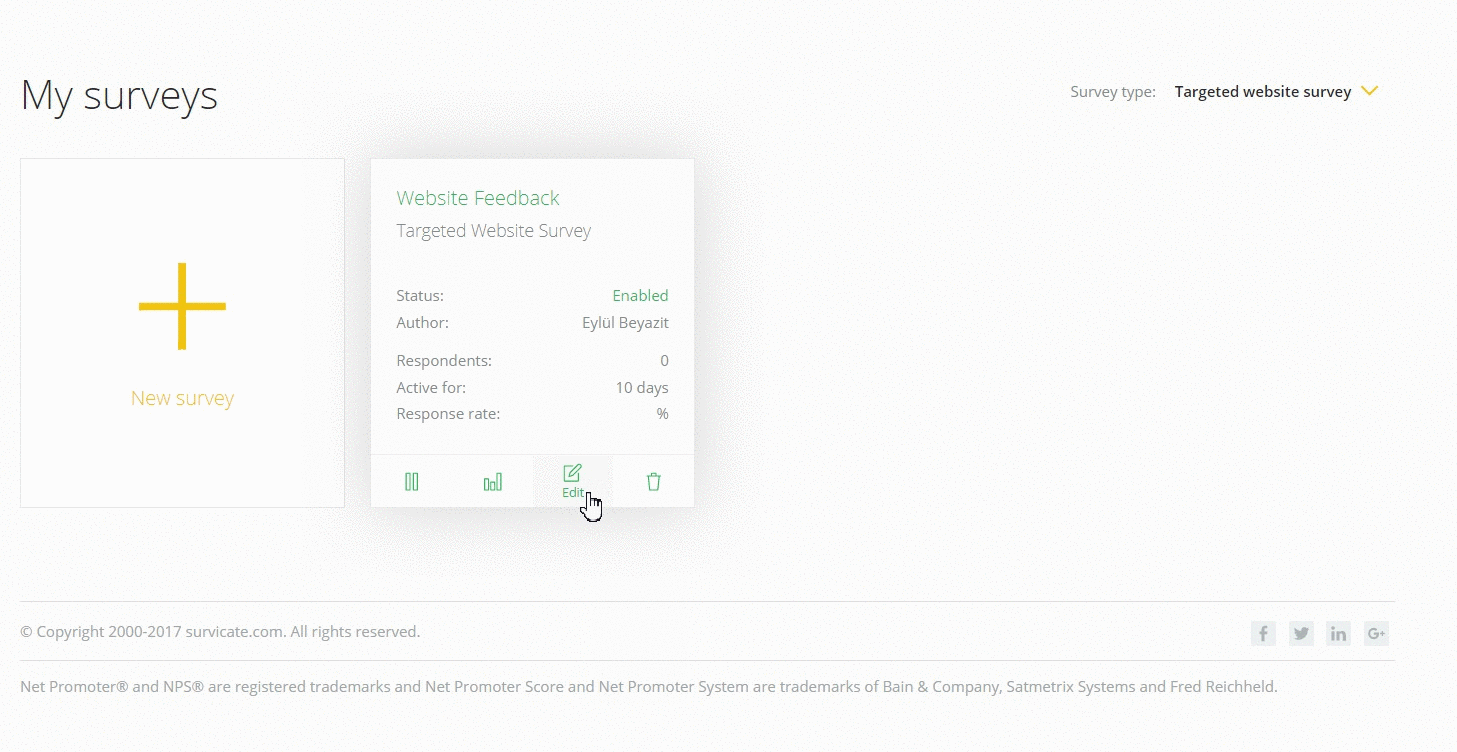 Targeting based on visitor Segments
You can create specific segments of your visitors to target them more precisely. You can do this by creating your custom segments in Edit > Settings > Who should see your survey > Create a new segment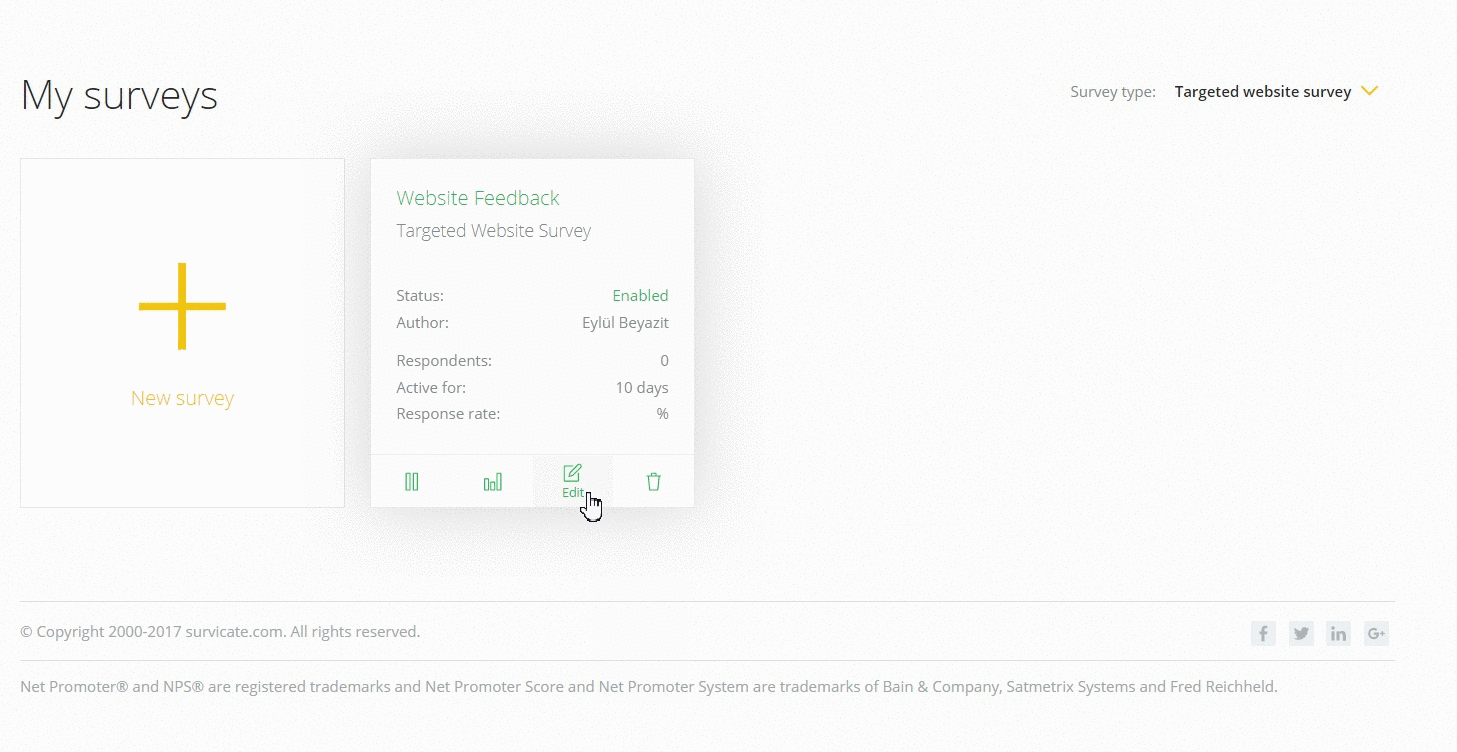 You can define segments based on;
Number of Visits
It's easily possible to survey your website regulars as well as newcomers by changing your segment's targeting. You will see this option under What type of visitor belongs to this segment?
You can pick from three different options:
All
New (visiting your website for the first time)
Returning at least for n time
Source of Traffic
Targeting visitors who are coming from a specific source allows you to get insights about particular visitors and their needs depending on the source of traffic. From a menu of targeting conditions pick How did they come to your site?
You can target users who:
came from all traffic sources
came directly to your site -  meaning they typed in a URL or opened your site from a bookmark
came from different site - either generally or from a specific page. It's especially useful for tailored and contextual questions.
came from a search engine - meaning they have found your website after they searched for something in google, yahoo, etc.
came from a campaign - here you can specify parameters of a UTM campaign you want to target. Read more about UTM campaigns in this article
Their Previous Interaction with Your Surveys
Question tags allows you to target visitors who have seen or interacted with your previous surveys so you can build personalized experiences for your respondents.
Tags can be added to visitors who have given a specific answer or participated in a specific survey., and they are stored in visitor profiles in Survicate which are created for every visitor of your website.
First, enable the advanced mode from Settings > Add-ons > Advanced mode:

Go to the question you want to add tags to and click on Integrations & tagging then write tags in empty spaces corresponding with answers Enter to create a tag.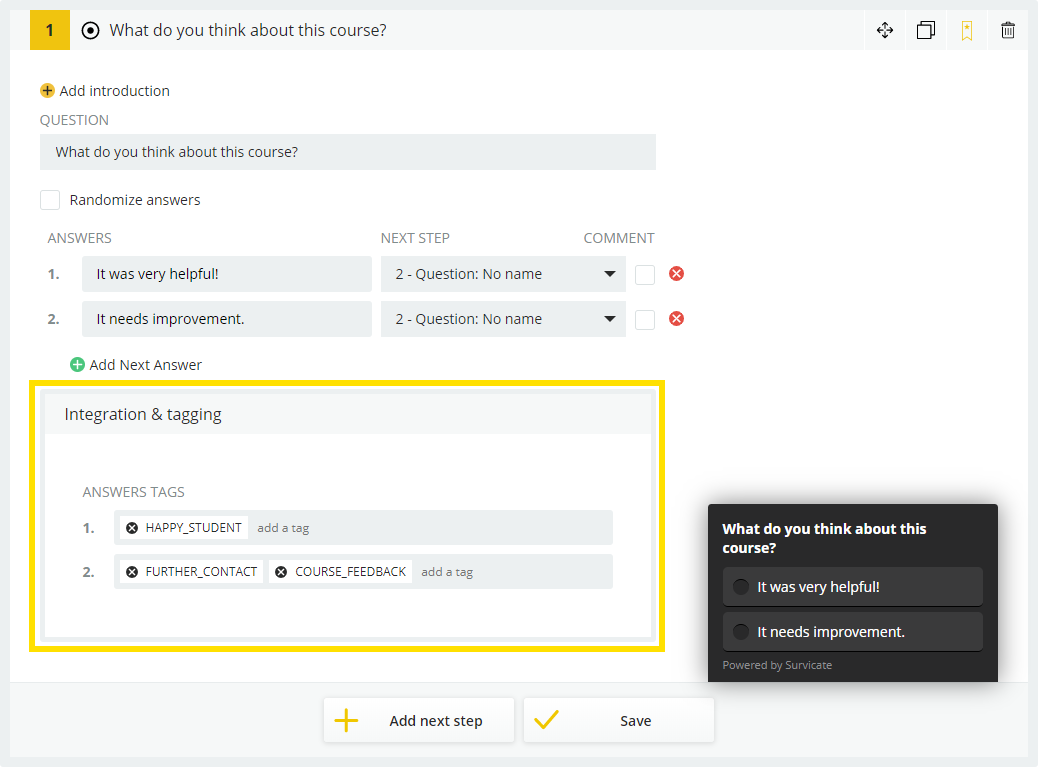 Each answer can be tagged with multiple tags.
Tag can't have spaces, but you can separate words with an underline or a dash
You can add tags to any question type
If you want to target people who finished your survey, you should tag all answers in the last question with the same tag.
Here under Have they been engaged with other surveys already?, you can include and exclude visitors that have specific tags:
Interaction with Your Website
You can decide to  show your surveys only to users that have performed a specific action, or met specific rules. You can also target your survey only at your known or unknown your visitors. From the menu of targeting conditions pick How do they use your website?
You can target visitors who:
Have visited specific URLs (with or without subsites included),
Have already visited at least n pages on your domain,
Have a cookie,
Don't have a cookie,
You can generate cookies both in Survicate (if you want to know how to add cookies, please
go here
), in other software, or by yourself using your own script. You may decide to assign cookies to users upon a specific event like visiting your site or a particular version of your site (especially useful for
A/B testing
). 
Their Browser Language
For example: if you want to target Spanish users, you should use es code.
We don't track IP addresses of respondents, therefore to sample a group based on their location, you should also use this method.
Targeting Mobile and Desktop Devices
Website surveys can be displayed on all types of devices. By default, surveys are displayed both on desktop and mobile; however, you may decide to target either desktop or mobile devices. Go to What device do they use? and choose the device you would like to target.
Enable your Custom Segment
When you are happy with your settings, you can save the segment by clicking Save.
You need to enable your segment for it to work properly. If you have two or more segments enabled, we trigger the surveys to all segments.
Targeting a percentage of your traffic
To enable visitors sampling, go to "Who should see your survey" and change the Show survey to X % of visitors field. There you can specify what percentage of visitors should see it and then click the Save button.

---
Do you find this helpful?
---