How to create a survey for my mobile application?
You can now conduct mobile UX tests and inquire about who your clients on mobile devices are and what are their main pains, needs, and goals during the use of your app.
Why would I use it?
Find out exactly how your users feel about your app and use that knowledge to change, adapt and improve
Catch negative responses before they appear in app stores reviews and discover what needs improvement
Use contact forms, open-ended questions, and rating systems as additional features of your app
How to install The Mobile SDK in your app?
To run surveys inside the mobile app, you need to install The Survicate SDK in the native app code. Please ask your developer to do it, providing him with this documentation:
How to create a survey?
Process of creating a mobile survey is very similar to creating a website survey. All you need to do is: 
➕ add new survey and choose follow up questions,
🖌 design the survey
⚙️ set up who will see your survey & when it will be displayed
Step 1: Creating a survey
Click on Create new survey then select Start from scratch > Launch in your mobile application and name your survey.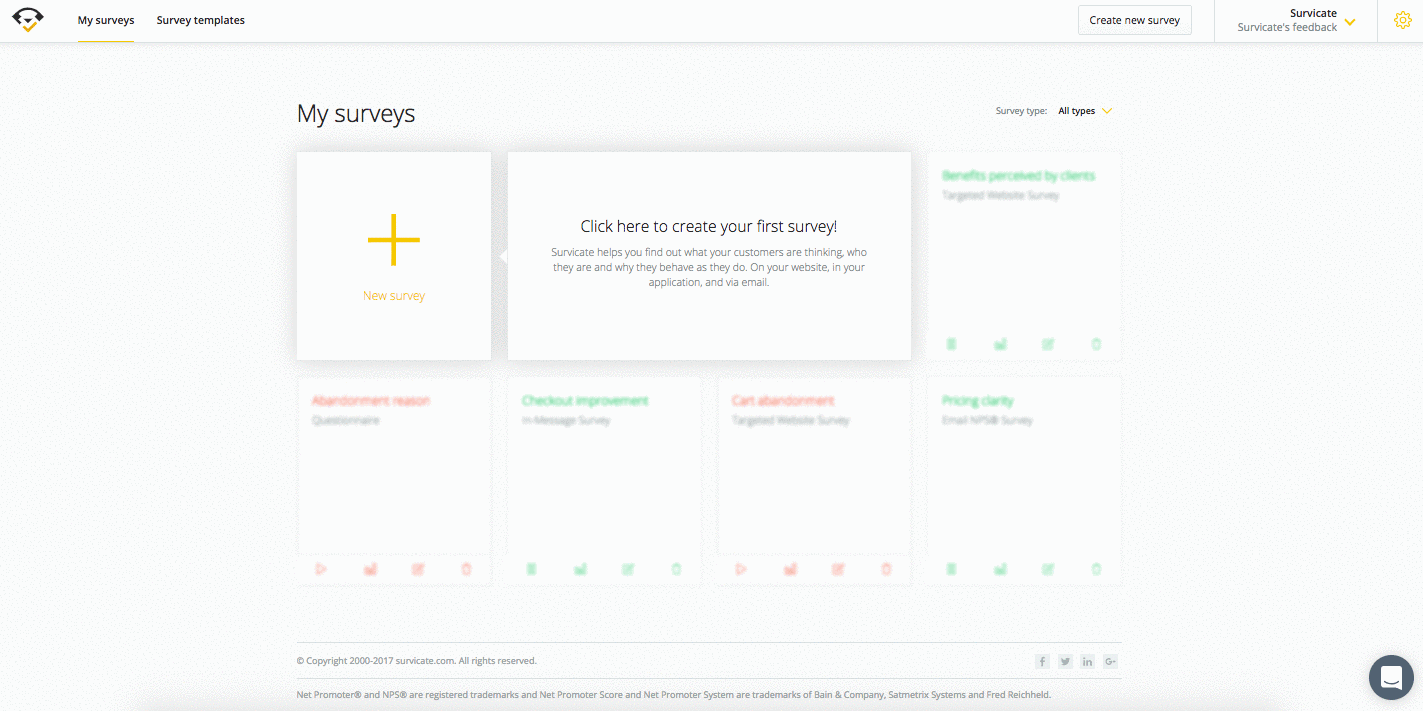 Step 2: Designing a survey
In the Design section, you can change the main survey color, text on the Submit button and choose whether the survey will be displayed as a dialog window or in a full screen.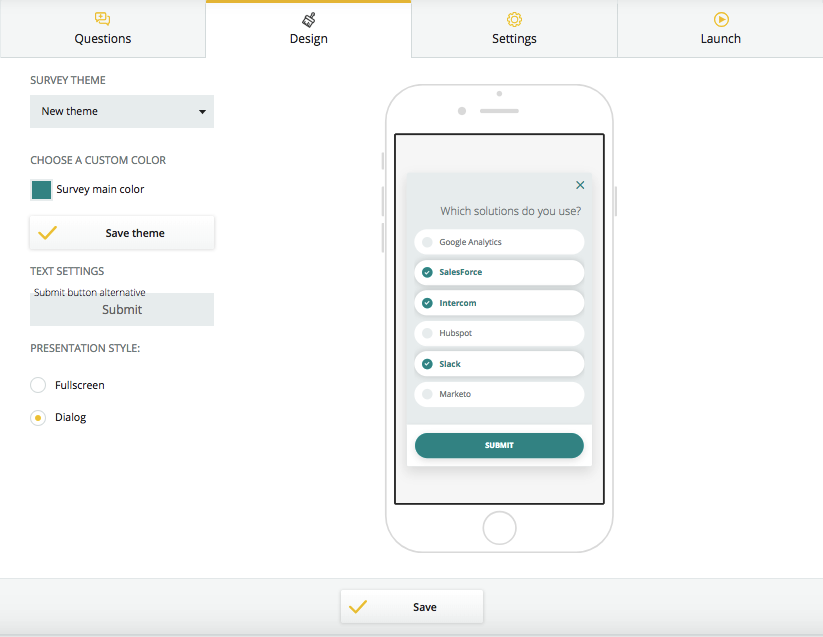 Step 3: Setting up the survey targeting
In the ⚙️Settings tab of your survey, you can choose the conditions that need to be matched to display a survey. You can apply several values for each condition- the survey will appear if any value is matched.

❗️Between different settings there is AND condition. Meaning if you choose Operating System: iOS and Language: English the survey will be displayed only to English iOS users.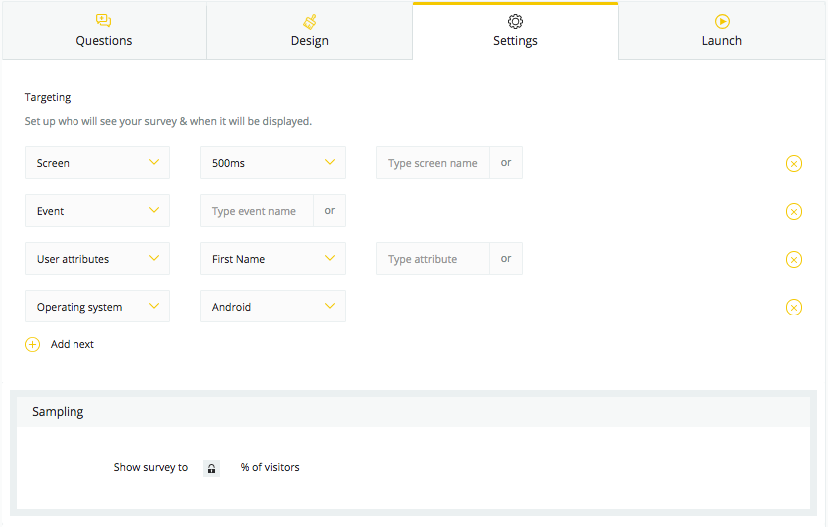 You can choose from multiple settings:
Screen is the screen that the survey should appear on and time the user needs to spend on it.
Pick the time after the survey is displayed in Delay field and write the names of a screen inside your code in the proper field.
Event displays a survey upon completing certain actions. Write the name of the event in the corresponding field.
User attributes targets only those users, that have certain attributes assigned. Pick the type of the attribute and write it.
Remember that your developer needs to modify a code to assign attributes to specific respondents. 
Language enables you to target people using specific language set up on their devices, picking it up from the list
Login status lets you target Logged in or Anonymous users only
Operating system allows you to choose whether you want to target iOS or Android devices
You can also see the option to sample users- target only a percentage of your traffic.
Step 4: Launch your survey
After you have everything set up, all you need to do is clicking the Play button:

Your new mobile survey is now live and the feedback is being collected!

💬 If you have any questions or need help setting up Mobile SDK, please feel free to reach out to our team. We are always happy to arrange a 1:1 demo call to help you out in no time. 📞
---
Do you find this helpful?
---