Setting up Intercom integration
How it works?
You can use Survicate with Intercom to:
Uncover your active users' insights by surveying them in an unobtrusive, contextual way with in-app surveys. 
Research Net Promoter Score (NPS) in your app as well as send them via Messages and Smart Campaigns, and act upon scores with follow-up emails to prevent churn or boost referrals.
Send basically any survey to your users and leads via email or chat messages to segment them better - associate responses with users and send them to Intercom as user / company attributes, tags and events.
How to enable the integration? 🔧
Pick Integrations from Settings section (top-right corner) or 'chain' icon on the left-hand side menu of your dashboard.

Find Intercom logo and click Authorize.

🔒 Survicate uses OAuth to authorize with Intercom so you can be sure we don't send anything unnecessary.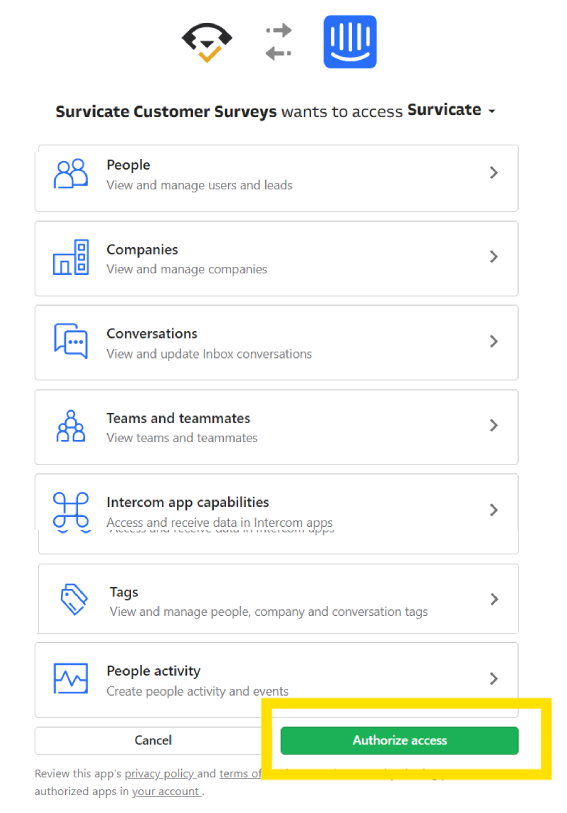 High five! ✋ The integration is ready to use 🚀

How to send responses to Intercom?
In order to avoid flooding your Intercom user profiles with data, we enable you decide on a question level whether or not to send responses to Intercom.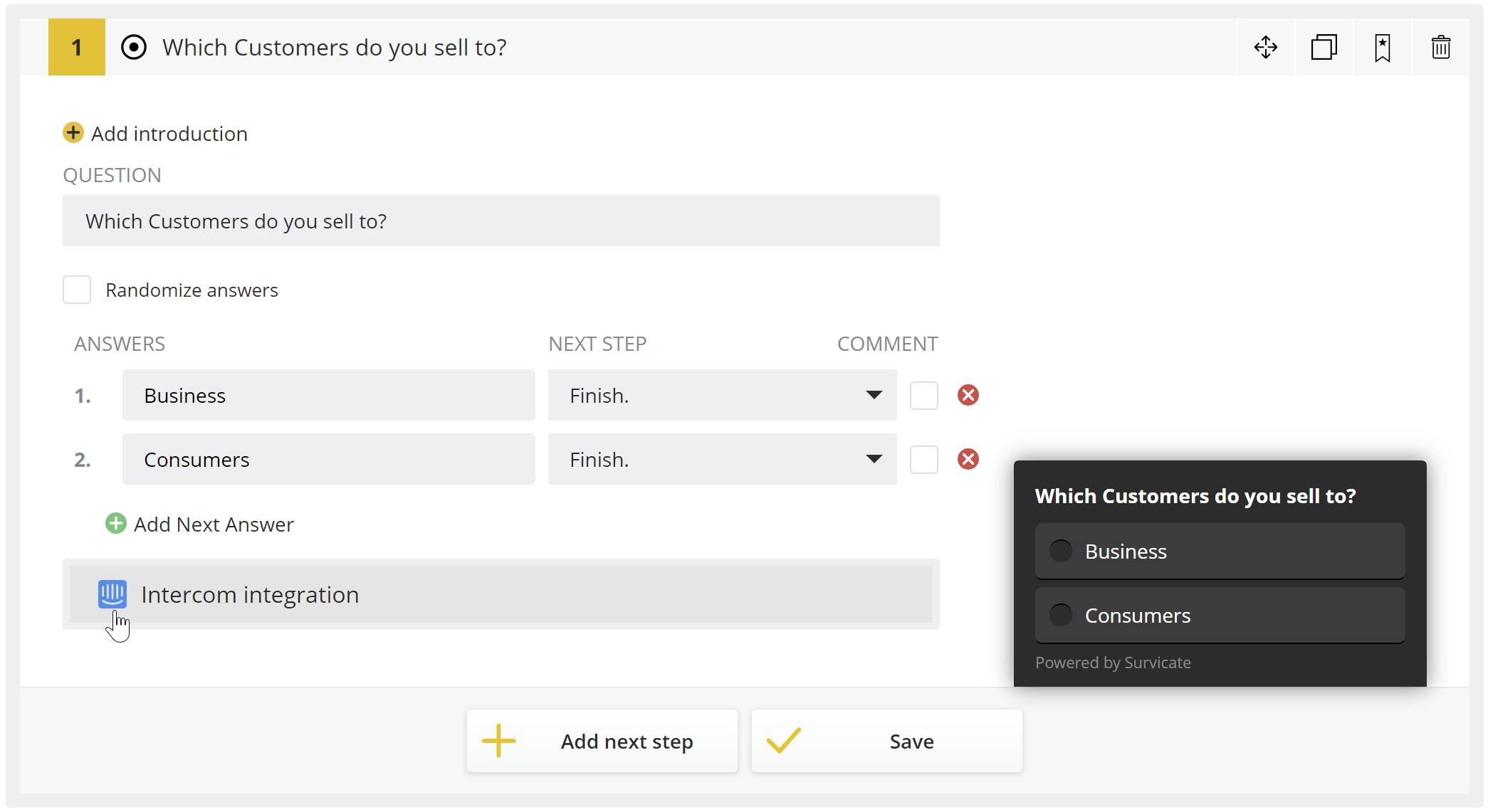 You can send responses to Intercom user or company profiles as tags and/or attributes. Survicate will also generate an event on survey responses.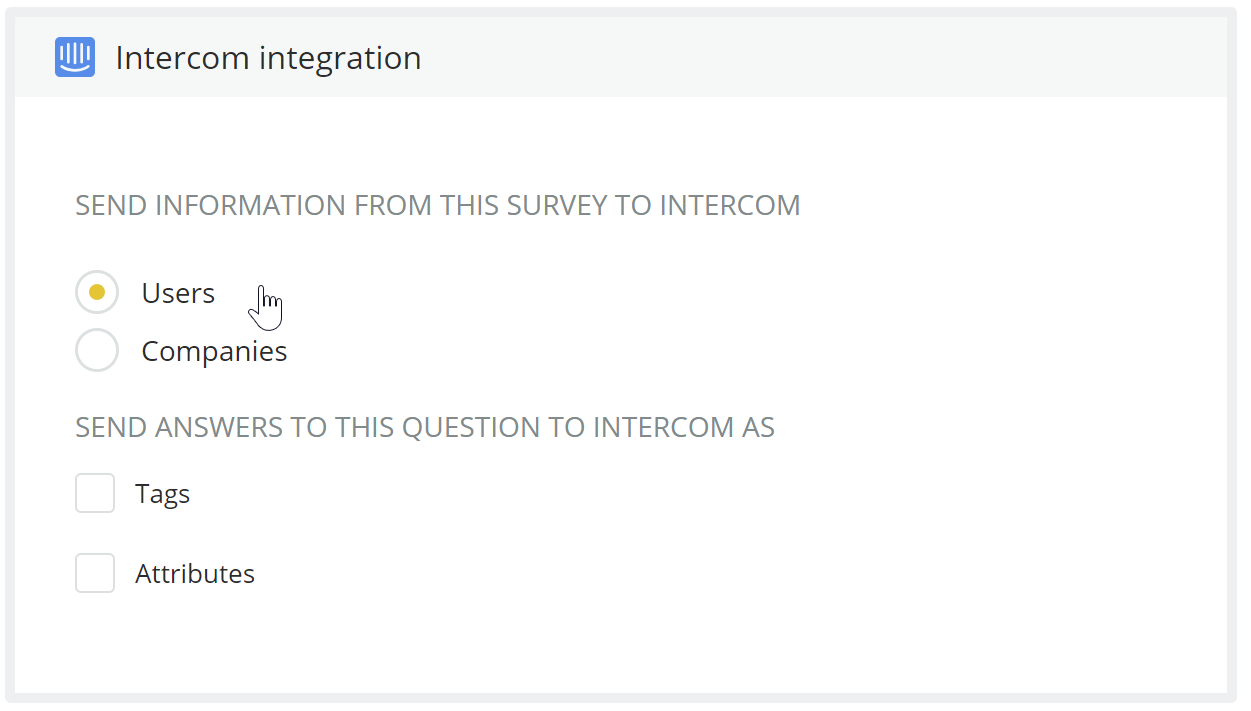 Sending answers as Intercom attributes
Attributes can be used for segmentation, targeting messages as well as personalization of your communication - you can use them in your messages.
Check Attributes checkbox
Select an attribute you want to integrate with from the list or create a new one.
After you choose an attribute, we will be able to send data to Intercom. By default Survicate is sending content of an answer as attribute value, but you can change the label to make it shorter or to fit your data structure - use attribute values field as below.
Save your question.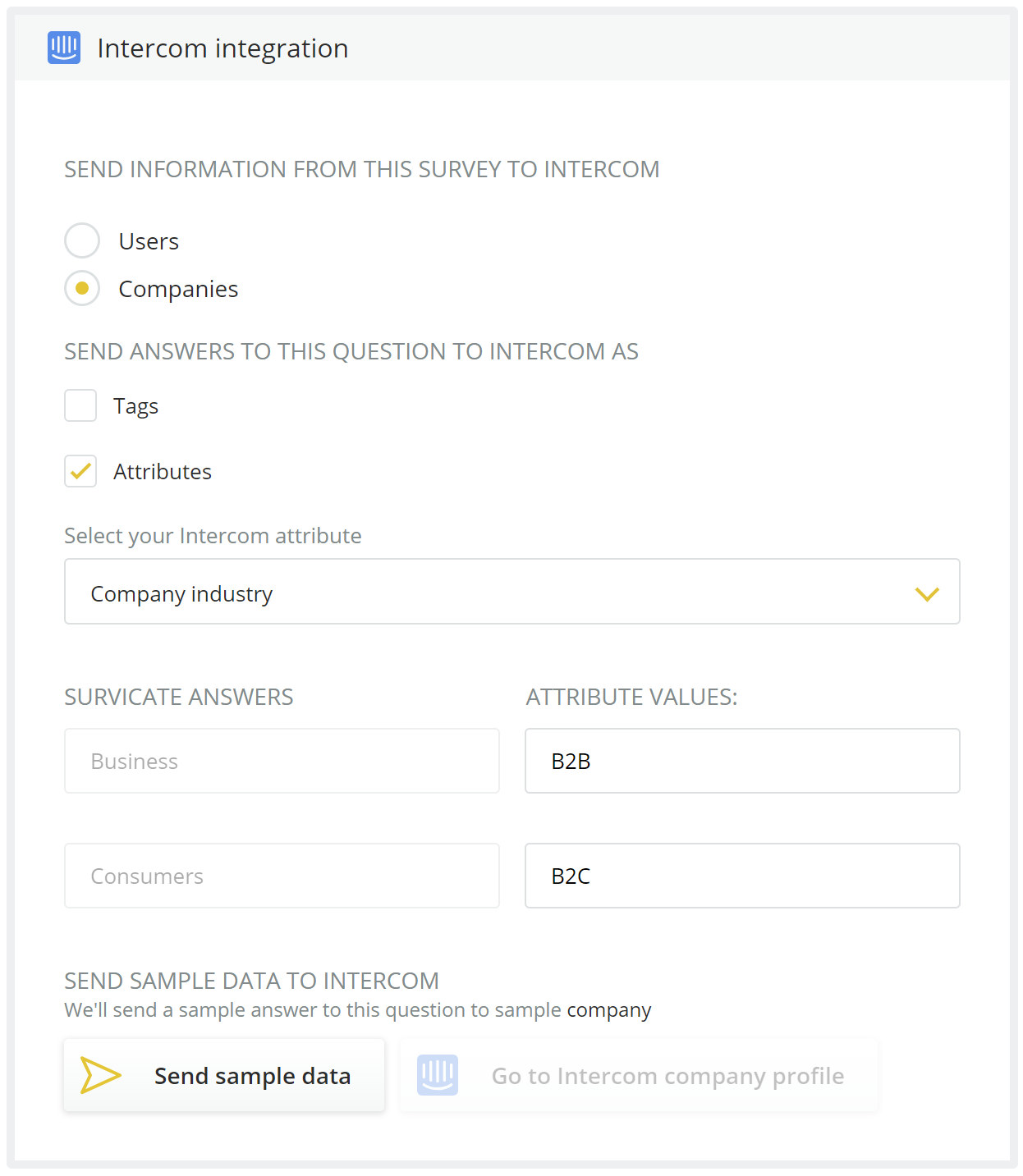 Sending answers as tags
Check Tags checkbox.
Assign tags to each answer using tags field - you can use tags you already created or create new ones. You can assign multiple tags to your answers.
Save your question.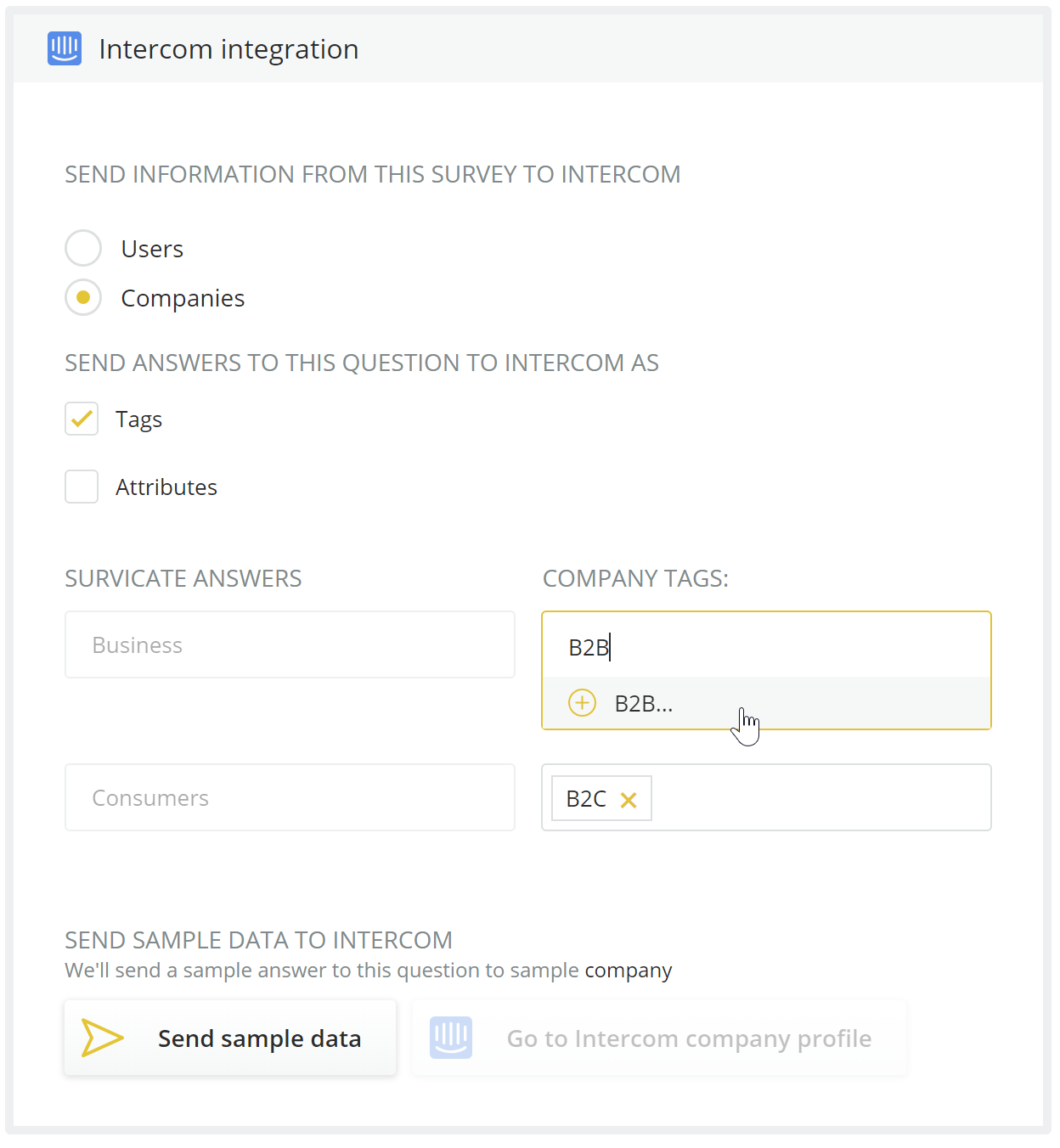 You can choose to send both tags and attributes at the same time: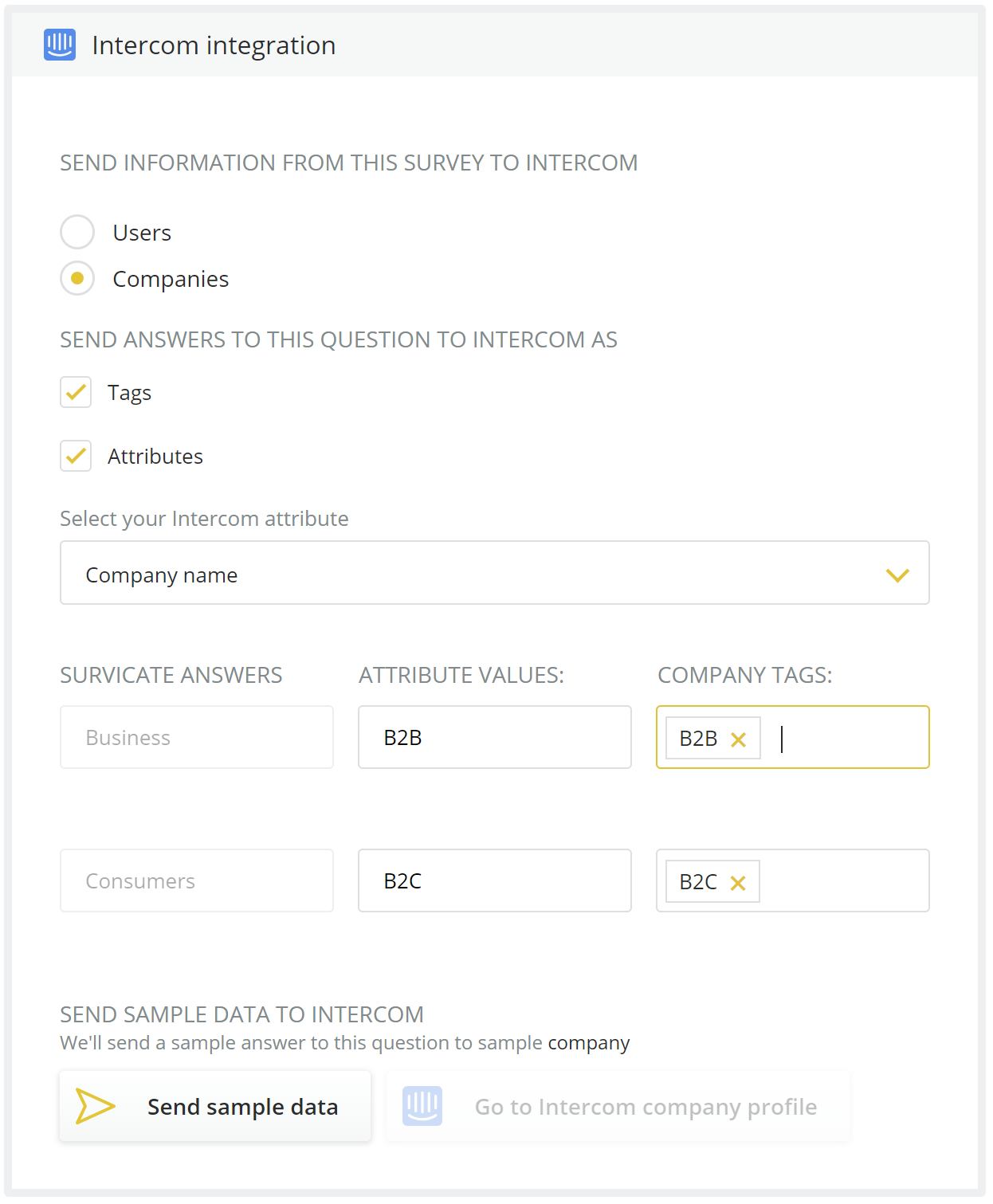 Sending events on survey responses
Survicate is generating Intercom events on default - they will be visible in user profile activity section. We're sending survey name, question and answer in event details. You can turn off event tracking in Intercom - more on that here.
Starting conversation upon receiving an answer
When asking a text (open answer) question you may choose to have an Intercom conversation opened, to quickly act upon users' feedback, ask follow up question and drill down on insights.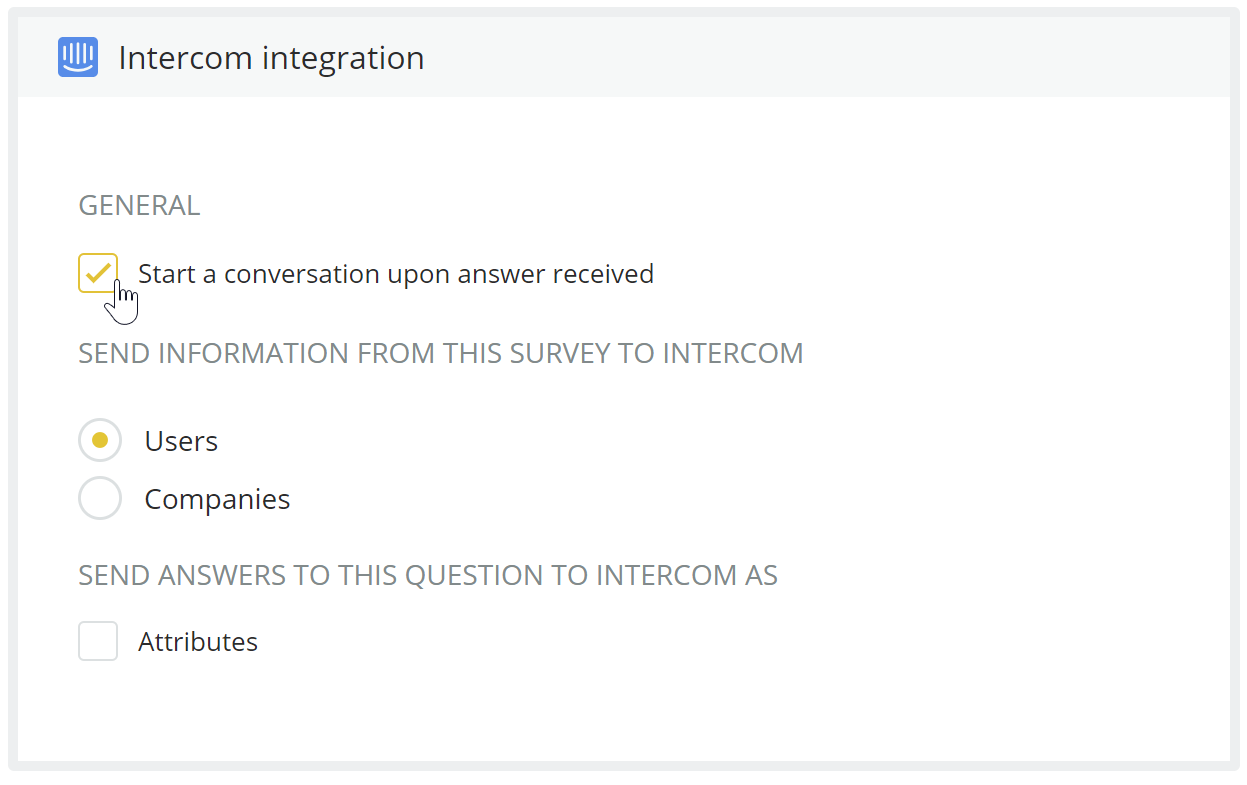 Testing integration with sample data
Once you have your survey ready and integration set up, you can test it without leaving Survicate - simply click Send sample data and we will create a test user and send question answers in the format you selected.

You can view it by clicking Go to Intercom user / company profile.

Need any further assistance? If you have any questions about the set-up, best practices and use-cases, please feel free to reach out to us via our Intercom. We could also arrange a quick demo to help you get things going.
---
Do you find this helpful?
---