Pardot integration
Survicate and Pardot integration allows you to send survey responses to your prospects fields. You can use it for better segmentation, prospect grading and qualification. The set up is very easy and can be finished in less than 5 minutes.
How it works?
Question level integration - for each survey question you can decide if you want to send responses to a chosen prospect's field or not.
You can choose existing prospect fields from the list, or create a new one without leaving Survicate.
Responses are sent in real time.
You can use Survicate contact forms to generate new leads in Pardot.
How to enable the integration?
Just go to Settings > Integrations, find Pardot on the list, click Authorise and provide your credentials:
Your email address.
Password
API Key - you can find it here.

Once enabled, you can find additional integration settings for each survey question.

How to send data to Pardot fields
As soon as you have integration enabled, go to the Survey edit > Questions to see the Pardot integration button on the bottom of the question setup


Click it, tick a box Send answers to this question to Pardot and choose a field you want to feed with Survicate data. You can pick one from the list, or add a new one. Then set up how answers should be displayed in Pardot: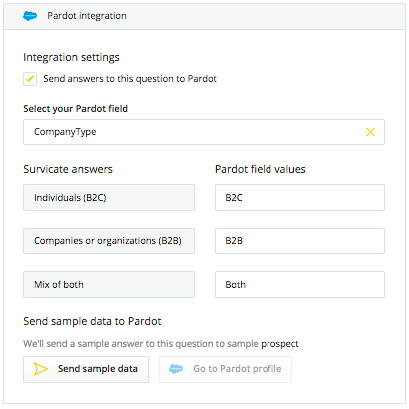 As soon as you set everything up, the integration is working and you're welcome to test it. 
Testing the integration
Click on Send sample data button and Go to Pardot profile to view newly created user with all the field values assigned:

Creating a Prospect from a contact form
To create a Prospect from Survicate all you need to do is open a contact form and click Pardot integration > Send answers to this question to Pardot > Create new prospects in Pardot.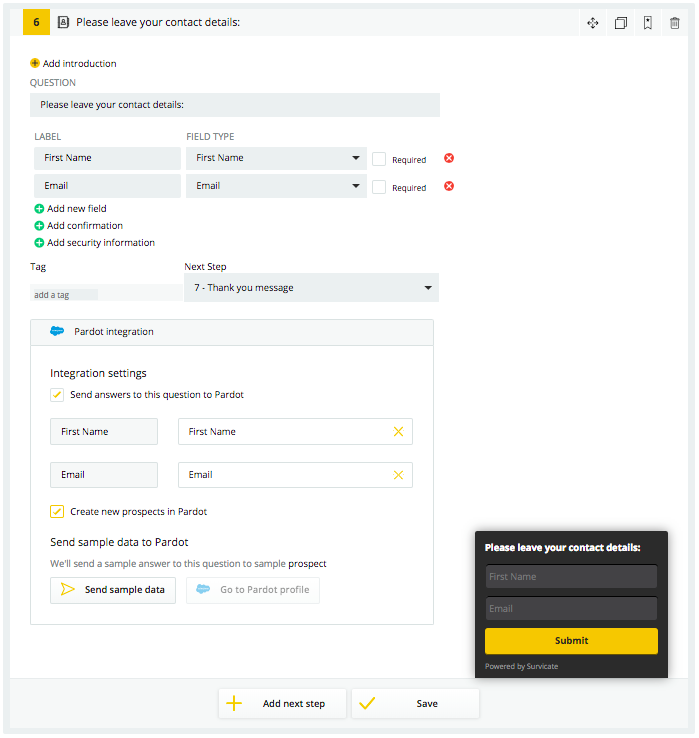 Need any further assistance?
📞 If you have any questions about the setup, best practices and use cases we would love to arrange a quick demo to help you get things going. 😃
---
Do you find this helpful?
---