How to run a survey on the website? Installing tracking code
When and why you should install Survicate tracking code:
Website surveys allow you to collect feedback from your visitors directly, understand their behaviour and motivations and find out how they respond to your content or offer - they help you understand why visitors behave as they do.
Having doubts? Putting the code on the website is very easy and totally safe 😃
Where can I find the code? 🔎
Go to Settings > Tracking code
How to put it on the website? 🔧
If some else is managing your website, you can send them an email with instruction

If you use Google Tag Manager - you can use out one-click installation available in your account or find Survicate plug-in inside GTM
Wordpress users - you can use the our plugin 🔌
None of the above? See instructions below 😃
Manual tracking code installation
1. Go to Settings - Tracking Code:
Click the Settings button in the top-right corner. A drop-down list will appear. Select Tracking Code option. You will be transferred to the corresponding page.

2. Copy the Survicate tracking code 
The first and the last line of code are just comments, and they won't impact the execution at all.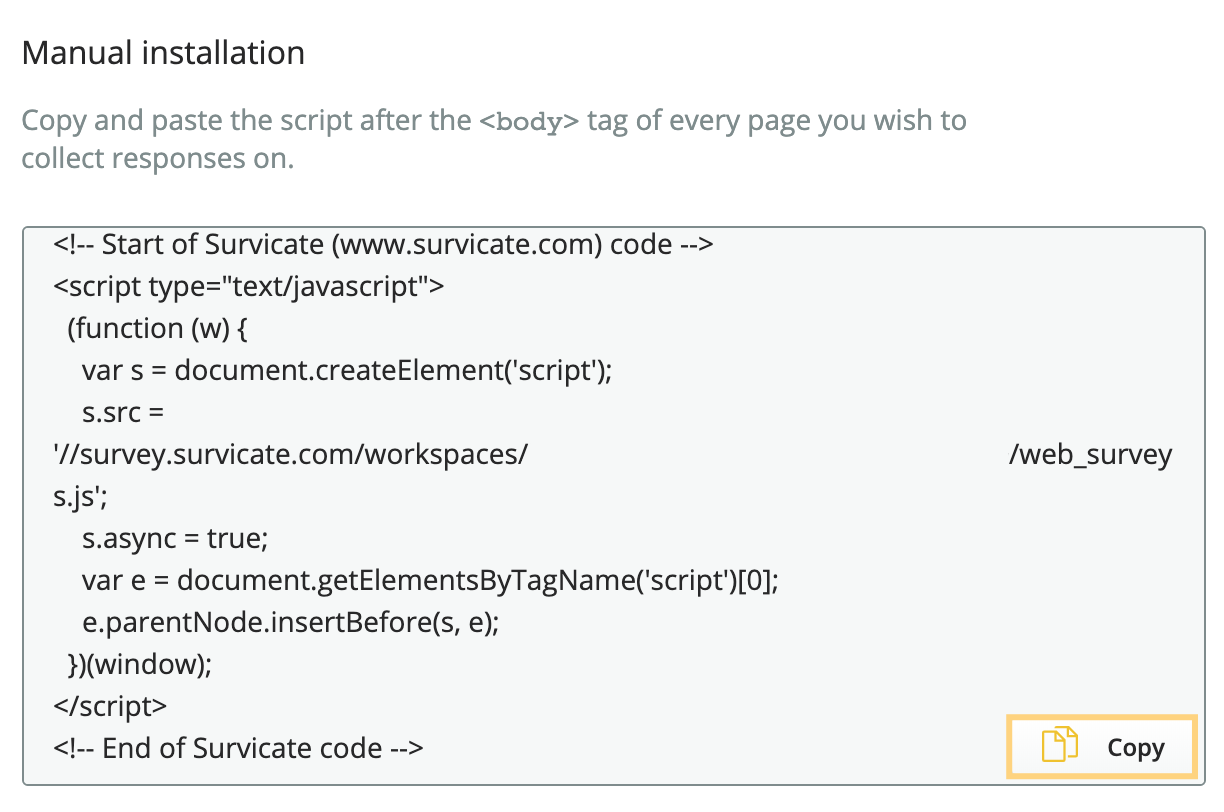 3. Paste the tracking code to your website
You need to paste it into the code of your website pages. Our suggestion is to add it to your website template so that it automatically goes into each page of your site. The general recommendation is to insert the tracking code at the bottom of the <body> part.
4. Your Survicate Tracking Code is now installed.
Once you have added the Survicate Tracking Code to your site, you will need to wait a few minutes for your surveys to appear.
5. Check if your code is installed properly
Open your browser Console and write _svc to check if the code is properly implemented.
How to check if my code is installed
💬 If you have any questions or need help installing Survicate tracking code on your website, please feel free to reach out to our team. We can send suitable content over or arrange a 1:1 success call to help you out in no time. 📞
---
Do you find this helpful?
---